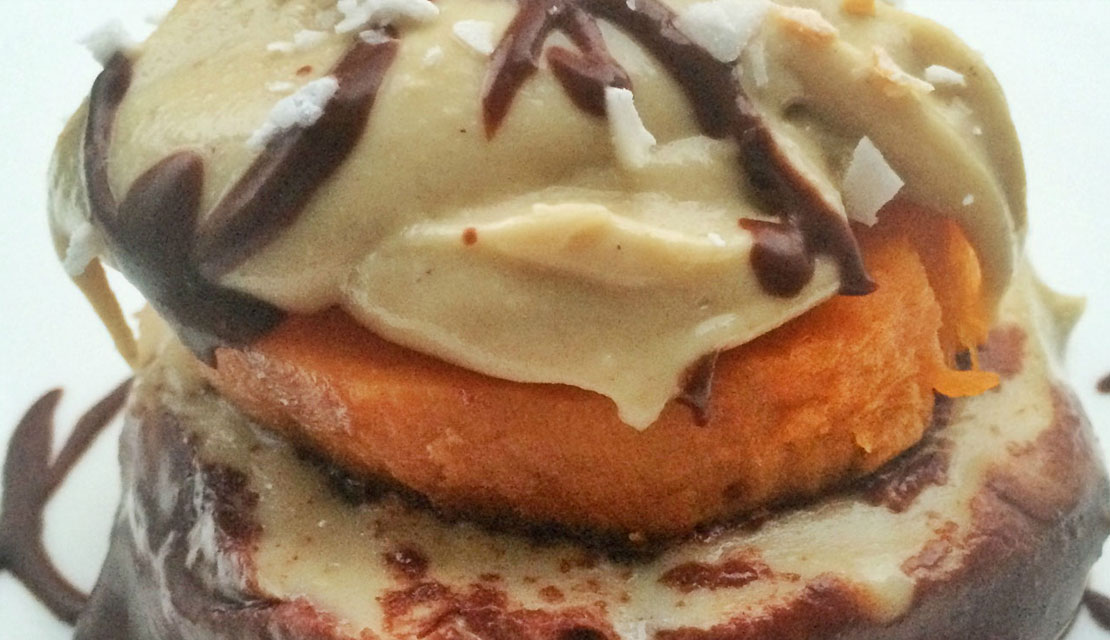 I LOVE creating! It is rare that I ever fully know what I am creating until it is complete. I take what is healthy and delicious and combine the two! 90% of the time I am happy with the results. Then there is that 10% that have great intentions of "this is going to taste so amazing, healthy, and delicious" that just turn out dead wrong! However, this chocolate mouthwatering sweet potato pie is a win!
Servings: 2
INGREDIENTS:
1 organic baked sweet potato
CASHEW BUTTER MIX:
CHOCOLATE SAUCE:
2 oz santosha chocolate
2 TB Raw Coconut Oil
5 TB Raw Cashew Butter
1 tsp Unsweetened Cocoa
1 tsp Liquid Stevia
Pinch Himalayan Salt
INSTRUCTIONS:
Slice baked sweet potato into 1/4 inch slices and place to the side
Combine ingredients of the 'Cashew Butter Mix' in bowl and mix well
Combine 'Chocolate Sauce' ingredients in a pan and heat up on stove till melted
Spread 'Cashew Butter Mix' onto a sliced sweet potato, making into a sandwich
Top liberally the warm 'Chocolate Sauce'
Place in Freezer for 10 to 20 minutes and Enjoy!
Fitting to Paleo, Raw, Vegan, and Clean Eating lifestyles.
Organic, Gluten free, Dairy free, Soy Free, and Refined Sugar Free
---