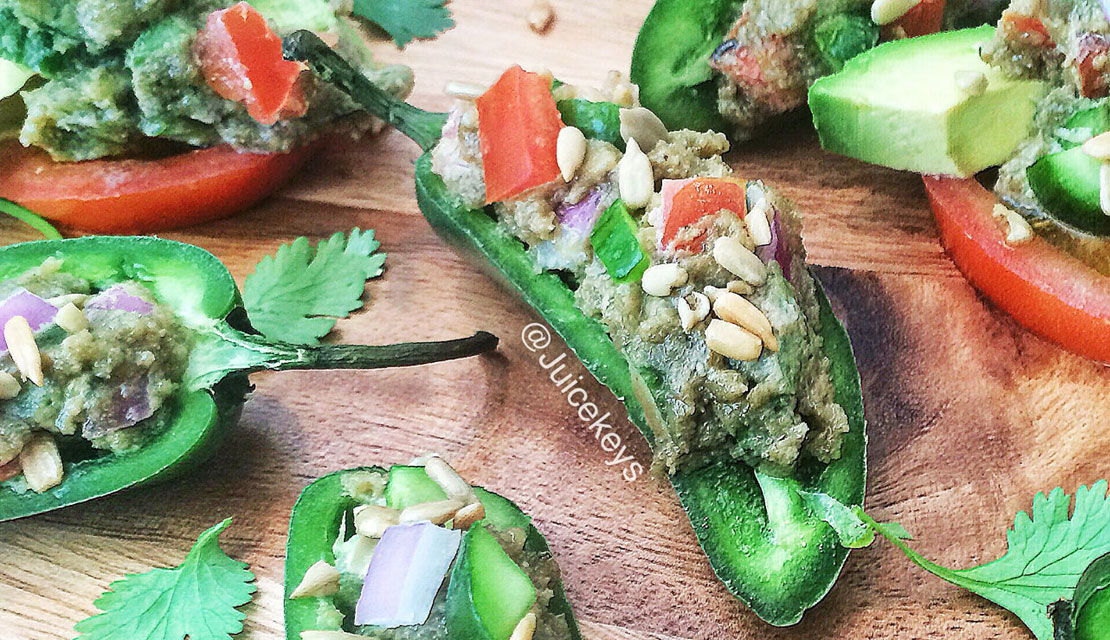 * If you do not like hot food, try putting the raw vegan cheese on sliced tomatoes with avocado or cucumbers! The "cheese" goes great gluten free crackers as well!
INGREDIENTS:
8 Jalapeños
2 Cups of Raw Unsalted Sunflower Seeds
1/2 to 1 tsp Flavorgod Seasoning Himalayan Salt & Pink Peppercorn
2 TB Parma Vegan Parmesan (soy free, gluten free, and candida free...made from walnuts)
1/4 C cilantro
1/2 TB fresh lemon juice
1/3 C diced red onion
Pinch of Flavorgod Seasoning, Garlic Everything
1/2 C diced tomatoes
1/3 C diced cucumber
INSTRUCTIONS:
Place sunflower seeds and flavorgod Himalayan Salt & Pink Peppercorn into Vitamix
Start on variable 1, working way up to 10, then high until turns into a "butter" (using the vitamix tamper to help as you blend)
Add in parma vegan parmesan, cilantro, lemon juice, flavorgod seasoning garlic lovers, and 1/4 cup of diced onions (leaving a few to the side sprinkle on at end); blend well
Spoon "Cheesy" mixture out of vitamix, placing into bowl
Mix in tomatoes, cucumbers, and rest of the onions
Deseed Jalapeños (cut top off, then scoop out seeds with a small spoon, avoiding getting seeds on hands)
Stuff jalapeños with "cheese" and top with left over diced cucumbers, tomatoes, and sunflower seeds
EQUIPMENT: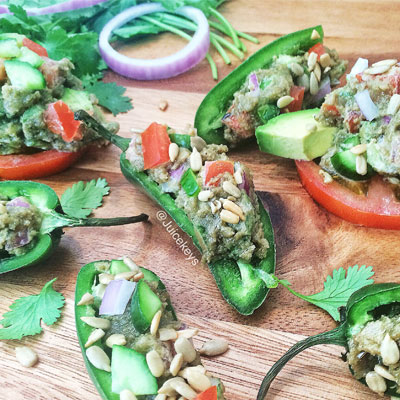 Fitting to Raw, Vegan, Paleo, Whole 30 and Clean Eating lifestyles!
Gluten free, Dairy free, Soy free, Sugar free, Non-GMO
---