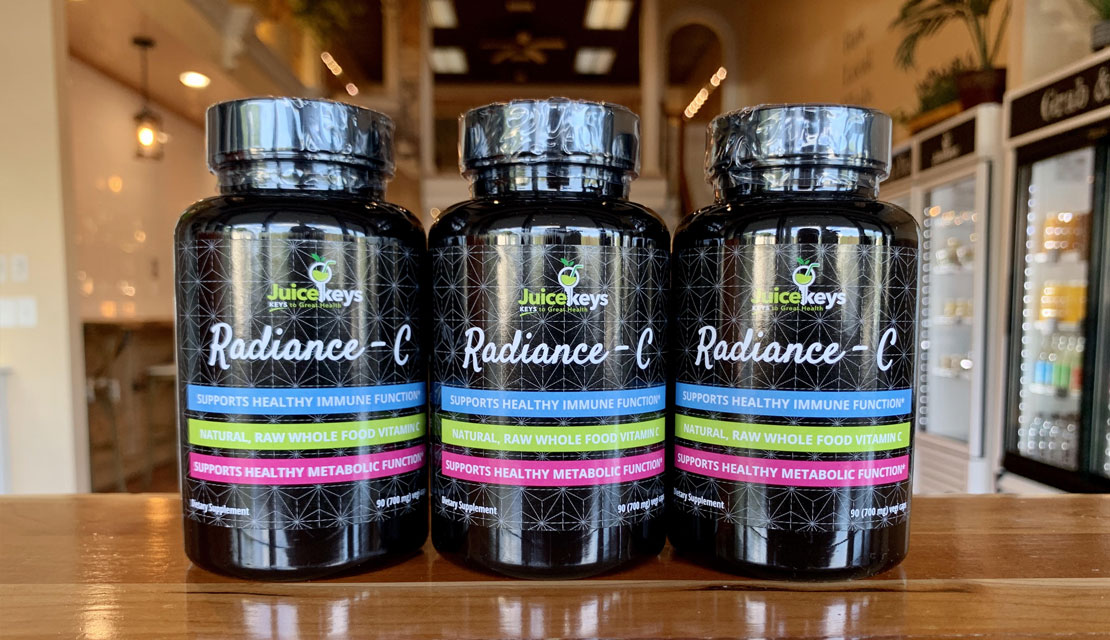 Add Radiance C to Your Smoothie and Juice Orders
We're starting off this week's blog with a News Flash: Our popular Be Well Supplement has a new name! Now called Radiance-C, this immune-boosting supplement packs a full 250% of your daily requirement for Vitamin C in a whole food bioavailable form. Pretty cool, right?
We changed this supplement's name specifically to honor the amazing benefits of a healthy, daily dose of whole food Vitamin C, but there's lots of other good stuff going on in this supplement too. In this week's blog, we take a closer look at Radiance C and how it can be incorporated into a Juickeys lifestyle.
What is Radiance C?
Radiance C, formerly Be Well, is one of our most popular Key to Care Marketplace Supplements, and for good reason. This supplement is a power-packed blend of camu camu berries, acerola cherry, rhus coriaria powder, and rose hips. These ingredients are powerful sources of Vitamin C and antioxidants. That means that they may offer benefits to your health, including:
A stronger immune system.
Greater energy & endurance.
A boost in collagen (essential for healthy skin, hair, and nails).
Reduction of inflammation.
In short, Radiance C promotes radiance in all parts of your body. It will really help you to shine!
Does Radiance C replace the need for healthy, organic juices?
While Radiance C doesn't replace the need for other food & juice-based vitamins & minerals throughout your day, this supplement is a great complement to any meal. At Juicekeys, we like to open up the capsules and mix them in with our healthy, organic juices. Our cold-pressed orange juice is an antioxidant powerhouse that is often dismissed as having "too much sugar." We feel the total opposite when it comes to our orange juice! Here's why:
Orange juice offers easily absorbable nutrients like Vitamin C.
The natural salicylic acid found in oranges can be a powerful anti-inflammatory.
The natural sugars in orange juice may help your liver convert T4 to T3 (active thyroid hormone).
Cold-Pressed orange juice is a great source of potassium and magnesium.
Combine your Radiance C with a glass of our cold-pressed orange juice for the ultimate dose of Vitamin C energy!
Can I order Radiance C from the Juicekeys App?
Yes, you can add a bottle of Radiance C to your order on the Juicekeys app. When you place your smoothie and juice orders, simply scroll down the bottom of the menu until you see our Key to Care Marketplace items. Then, tap on Radiance C to add it to your cart. We'll have it ready for pick-up along with your smoothie!
We're excited to help you get energized this fall season with that extra Vitamin C kick!
Here's to your health!

---