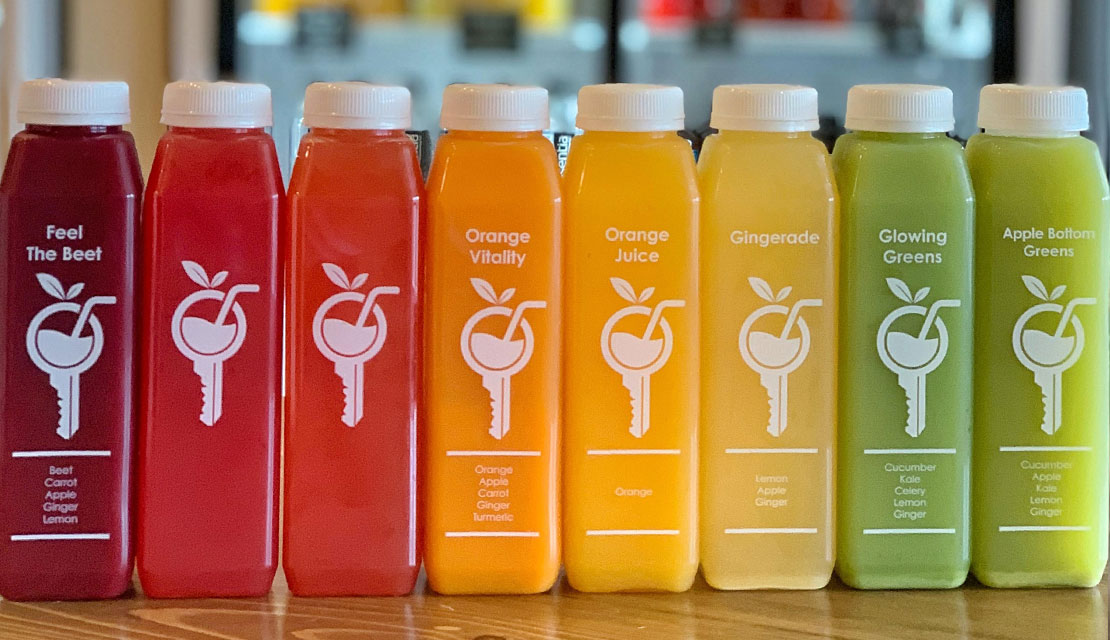 Create Your Own Cleanse at Juicekeys Juice Bar in Raleigh
Early summer is a great time for incorporating healthy, organic juices into your diet. It's also a great time to consider a juice cleanse with fresh, organic, cold press juices. Never done a juice cleanse before? Don't worry, we are happy to be experts on all things related to our juice bar, and we can walk you through the process.
What exactly is a juice cleanse?
Put simply, a juice cleanse is a great way to let your body take a rest from digestion, absorb essential vitamins & minerals, and release toxins. Some people do up to five days of juice cleansing each month, but how often you want to cleanse is a personal decision. If you've never done a juice cleanse before, it's a good idea to start with a single day—or even just a half day (juice until dinner) —and go from there. Once you know how your body will react to a juice cleanse, you can decide how many more days you'd like to add each month, if any.
What's the best way to do a juice cleanse?
Juice cleanses will look different for every person based on their personal goals, but we can offer some pro tips that will help to make your juice cleanse cleaner and more effective:
Use Healthy, Organic Juices
People often ask us if choosing organic matters when doing a juice cleanse, and the answer is an emphatic YES. Juice is absorbed quickly & easily into the body, which means that the toxins found in non-organic juices will be absorbed right along with it. And no one wants pesticides in their juice, let alone in their body!
Choose Cold Press Juice
Juice made with a cold press is super fresh and packed with nutrients. A cold press uses pressure to extract the juice from fruits and vegetables with all of its essential vitamins and minerals intact. The traditional pasteurization process uses heat, which diminishes the nutritional value of the juice.
Select Juice Flavors You Love
If you don't like green juices, there's no reason to focus on green juices for your cleanse! Instead, make your cleanse enjoyable by choosing flavors you love, like our beet & carrot based Radiant Roots or our popular Apple Bottom Greens. There are plenty of health benefits to be found in all kinds of juices.
Be Creative with Your Cleanse
Sticking to juice for a day or more doesn't have to be boring, and with a little creativity you can even increase the nutritional value of your cleanse.
Pour your cold-pressed juice over ice so you can sip it throughout your morning. Or, use one of our favorite pro tips and use frozen mango or pineapple chunks as the ice.
Here's another pro tip that will seriously increase your juice's nutritional value: boost your juice with our Be Well capsules. Simply open up one or two capsules and stir them into your juice for a megadose of Vitamin C + super immune support. You can also add our Superfood Shots to any juice (anti-inflammatory Turmeric-Lemon is a fave!).
Where can I build a juice cleanse in Raleigh or Durham?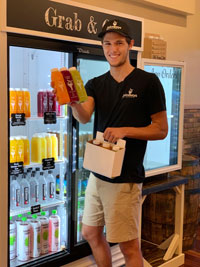 Juicekeys offers personalized, build-your-own juice cleanses. All you have to do is pop into one of our Raleigh or Durham locations, grab a cleanse carrier, and fill it with your favorite juices from the grab & go case. If you're not sure where to start, we provide our recommended ways to cleanse for one, two, and three days cleanses. You can choose to cleanse the entire day OR you can cleanse through breakfast and lunch and then finish your day with a healthy, organic dinner (like our homemade chicken salad with a double energy ball for dessert!). All of our organic juices are cold-pressed and bottled in-house, so you can rest assured that you are cleansing with top-notch ingredients.
Ready to get your cleanse on! We're ready to help! Can't wait to see you in the smoothie shop! In the meantime, check out our FAQs about juice cleanses.
Here's to your health!

---