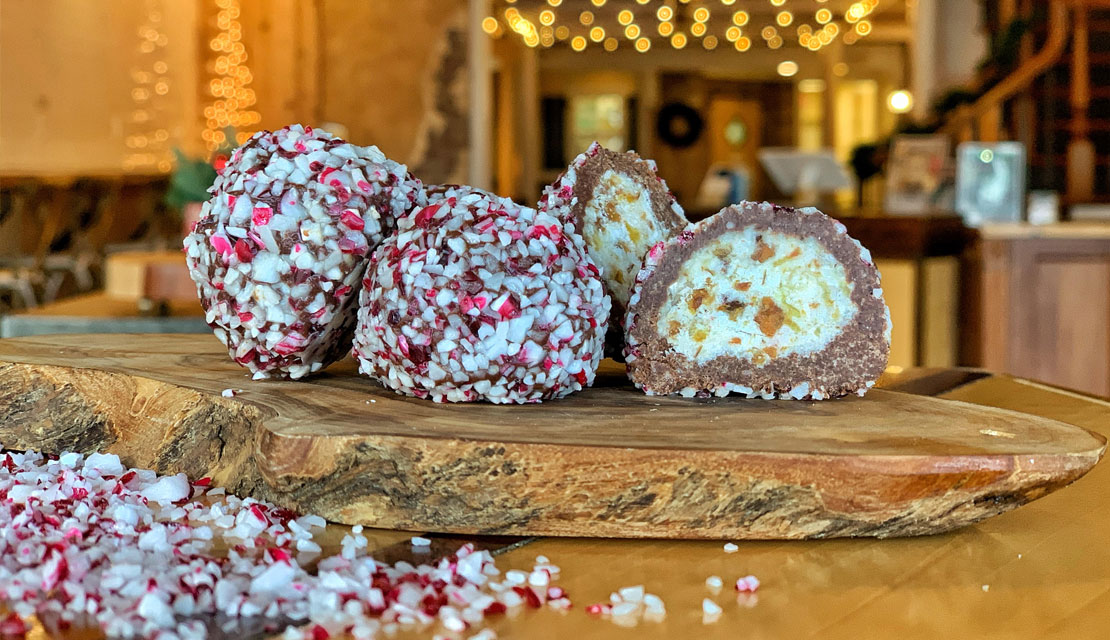 December Specials to Fuel Your Festive Spirit
At Juicekeys, there are lots of reasons to get into the holiday spirit. Our main reason for feeling so festive? We're surrounded by amazing family, friends, team members, and customers! This time of year reminds us to express how grateful we are for all of them.
But here's another reason we get excited about the holidays: new recipes! The winter holidays are the perfect time to put fun & exciting new products on our menu! Last month, we spent a lot of time tinkering with new recipes for energy balls, healthy smoothies, protein shakes, and more. This month, we're releasing the finished products for all of you to enjoy.
So, get ready for some holiday flavors, from refreshing peppermint to rich, velvety chocolate.
What are December's Festive Specials?
Glad you asked! We're really excited to share our two holiday specials: a healthy smoothie that's part protein shake and part peppermint milkshake (healthified, of course) + an energy ball that's fueled by grass-fed, pasture-raised, collagen! Juicekeys friends, meet our brand new menu item, Candy Cane Fudge Fuel, and say hello to our old friend, the Candy Cane Smoothie!
Here are the details:
Candy Cane Smoothie
This healthy smoothie is a meal that tastes like mint-chip ice cream! Juicekeys regulars look forward to this holiday favorite all year long. Since we'll have it the entire month of December, this is your chance to revisit an old favorite or try something new you might fall in love with.
The ingredients that make this Candy Cane Smoothie a festive spin on a Peppermint Milkshake are Almond Milk, Peppermint, Vanilla Protein, Apple, Coconut Water, Almond & Cashew Butter and Beet (for color). In addition to tasting great, the Candy Cane Smoothie is also quite pretty to look at (if we do say so ourselves).
Candy Cane Fudge Fuel
This energy ball looks like a chocolate bon-bon, and it tastes a bit like one, too. But in reality, this is an energy-packed bite fueled by grass-fed, pasture-raised collagen! Candy Cane Fudge Fuel also contains Coconut, Date, Cacao, Cocoa Butter, Maple Syrup, Sea Salt, and crushed Candy Canes. All those ingredients together create a "treat" with a whole host of possible benefits, including:
A boost to the immune system
Healthier liver function
Reduction in inflammation
More youthful, hydrated skin
Healthier digestion
Better joint health
Grab a package of these bites and keep them on hand for holiday shopping fuel, a pre or post-workout boost, or to enjoy with your morning Bullet Proof Coffee. This good-for-you dessert is also the perfect holiday gift for friends, colleagues, and teachers.
Finally, with all this talk of candy canes, we thought we should assure you that our candy canes are not the usual, artificially-flavored variety. Our candy cane ingredients are simple: brown rice syrup, red cabbage & purple carrots for color, and cane sugar. No Red Dye 40 in these babies!
The Candy Cane Smoothie and Candy Cane Fudge Fuel are available in all three of our locations from December 1st through December 31st. So come on in for a bit of holiday cheer. We'll be waiting for you with a candy cane and a smile!
Here's to your health!

---