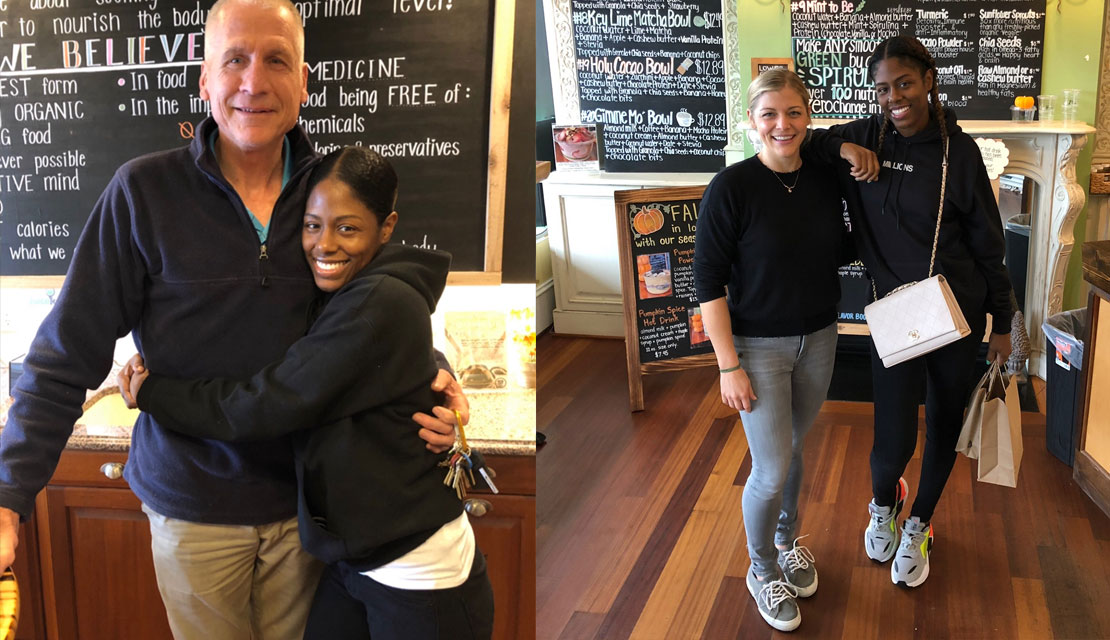 Healthy Food Fuels Entrepreneur
Juicekeys customer Tiphani Montgomery is a best-selling author, international speaker, and Forbes-featured entrepreneur with a passion for raising up other business owners. She also happens to be a big fan of green juice, but that wasn't always the case.
Back in 2015, as Tiphani was building her business, she knew that she wanted to get healthier, and she'd heard juicing was a good place to start. "I knew green juice was a great way to get nutrients straight into your system while letting the digestive system rest," she says. She was also interested in transitioning to a vegan diet, but she wasn't sure where to start. The other problem? "I thought green juice was gross."
That changed when Tiphani's friend Bibi took her along to "this juice place in Raleigh." Bibi came in with her own drink, and Tiphani asked us to make her a version of that: a combo of cucumber, apple, ginger, lemon, & kale. We went back to the kitchen and whipped up just what Tiphani asked for. Tiphani found that she liked the juice, and Chris and I discovered that we loved it, too! In fact, we liked the green juice so much that we added it to the menu as the "Green Bibi." Later, we turned that drink into one of our speciality Cold Press Juices, adding a few modifications inspired by Tiphani: a little more apple, ginger, and lemon. That Cold Press Juice, renamed Apple Bottom Greens, is now a customer favorite (and Tiphani's, too).
Ever since that day in 2015, Tiphani has become a regular customer. Even though she's busy running her business, which includes organizing & hosting the annual Millions Conference, Tiphani finds the time to fit healthy food, green juice, and Juicekeys into her day. It's not just the green juice that keeps Tiphani coming back, though. "I drive all the way from Cary," she says, "And I bypass all the green juice places to come to this one because I love the people so much." Tiphani describes Juicekeys as a "very family oriented" business. "That's what's most important to me not just as an entrepreneur but as a customer," she says. "They care about me, not just the product."
The Juicekeys family — our staff, Chris & I, and our mom and dad (dad pictured here with Tiphani!) — love chatting with Tiphani when she stops into the store. Tiphani's energy is contagious, and she glows with positive energy. It could be all that green juice & healthy food she's eating, but we think Tiphani was probably glowing from the inside well before she discovered Juicekeys! We're just glad to be on her radar.
Come into the shop to try Tiphani's Apple Bottom Greens for yourself, or grab another one of Tiphanie's favorite products: a bottle of Liquid Vitamin D from our Key to Care Marketplace. Tiphani loves our Vitamin D so much that she included bottles in all the VIP boxes at her Millions Conference! Does that mean we're hitting the big time? Find out for yourself in our Raleigh or Durham location.
Here's to your health!

---