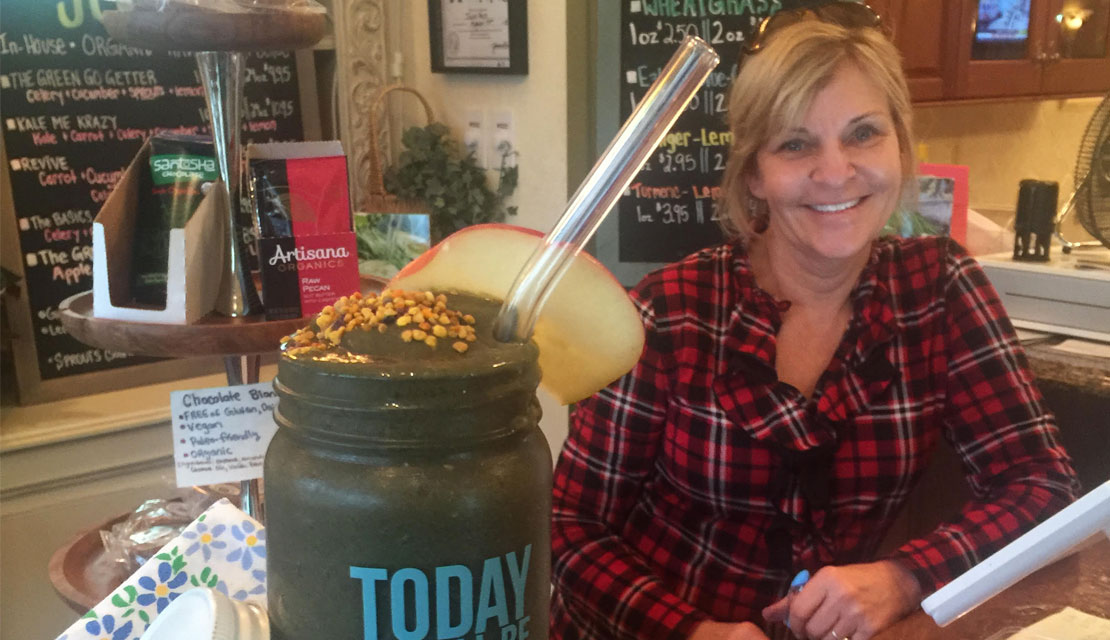 Healthy Smoothies Brought to You by a Mom Who Cares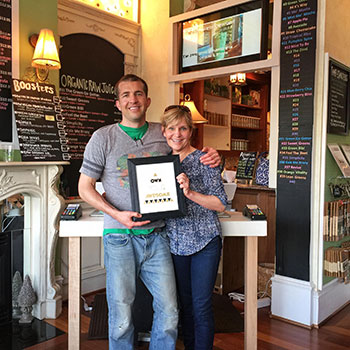 Juicekeys has never been solely about healthy smoothies and juices. While making healthy taste great is our passion, we're also proud to be a family-owned business. We care deeply about making our customers feel like they're part of that family. When my brother Chris and I opened Juicekeys in July of 2014, both of our parents were cheering us on. From day one, our superstar mom Gail was an indispensable piece of our business plan—slinging healthy juices, taking orders with a smile, and chatting up our customers. Today, with Mother's Day just around the corner, we're looking back on those early days of Juicekeys and remembering how our mom taught us what customer service is really all about.
Chris and I are lucky to have been raised by such a loving mother. Gail leads with kindness and knows how to make everyone around her feel nurtured and cared for. Gail began her career as an Exceptional Children Teacher and then became a (mostly) stay-at-home mom who also taught on and off. Most recently, Gail has carried her love of serving others into her role at Juicekeys. She started working at our flagship store in Raleigh when we first opened, but she was doing a lot more than helping us sell healthy smoothies and organic juices. Gail also put herself to work making our team feel special and cared for, and she made it her mission to know each and every one of our customers. Whether they wanted an organic juice, a smoothie bowl, directions to the gym, or just someone to talk to, Gail made sure customers loved their entire Juicekeys experience. If they didn't, she sent them home with something they did love. We loved how Gail greeted customers by name when they walked in the door — she even remembered customers' birthdays! We started calling her approach "Gail Young Customer Service"—come in for healthy juices and leave feeling like you got a big hug from your own mom!
The Juicekeys brand promise is "Key to Care." We are driven to source the absolute best products for our smoothies and juices because we care so much about giving our customers the keys to great health. So, great customer service is an innate part of our business plan. Still, it was our mom who showed us what that customer service looks like in action.
To this day, we've modeled our customer service training after our mother's approach. Here are its main tenants:
Bring joy and delight to the customer, whether that means a warm greeting, a welcoming atmosphere, a delicious & healthy smoothie, or all of the above!
Exceed customer expectations, always.
Listen to the customer—their health goals, their needs, and their desires. This is their show!
Know our products and our customers so well that we can match our customers with healthy choices that align with their immediate and long term health goals.
Here's another thing about great moms: they don't just make you feel loved and cared for, they also make you feel strong and ready to face the world. That's another piece of the Gail Young Customer Service plan we stand behind here at Juicekeys. We want you to feel special when you walk into our store, but we also want you to feel great when you walk out.
This Mother's Day, we're paying homage to Gail Young Customer Service by providing the best possible experience for every customer—online and in both our Raleigh and Durham locations. We hope we'll be making lots of moms happy on Sunday, May 9th, and we hope to make our own mom happy by whipping up some of her favorite Juicekeys treats (we might throw in some flowers & hugs, too!). Here are Gail's favorites:
What are your mom's favorite treats and how do you plan to treat her this year?
If your Mother's Day plans include some quality time with your mom + a healthy and delicious smoothie, we'll do our best to make you feel at home, in the style of Gail Young herself.
If you're looking for more Juicekeys inspiration, sign up to get our blog (team profiles, recipes, and more!) sent straight to your inbox.
Here's to your health!

---