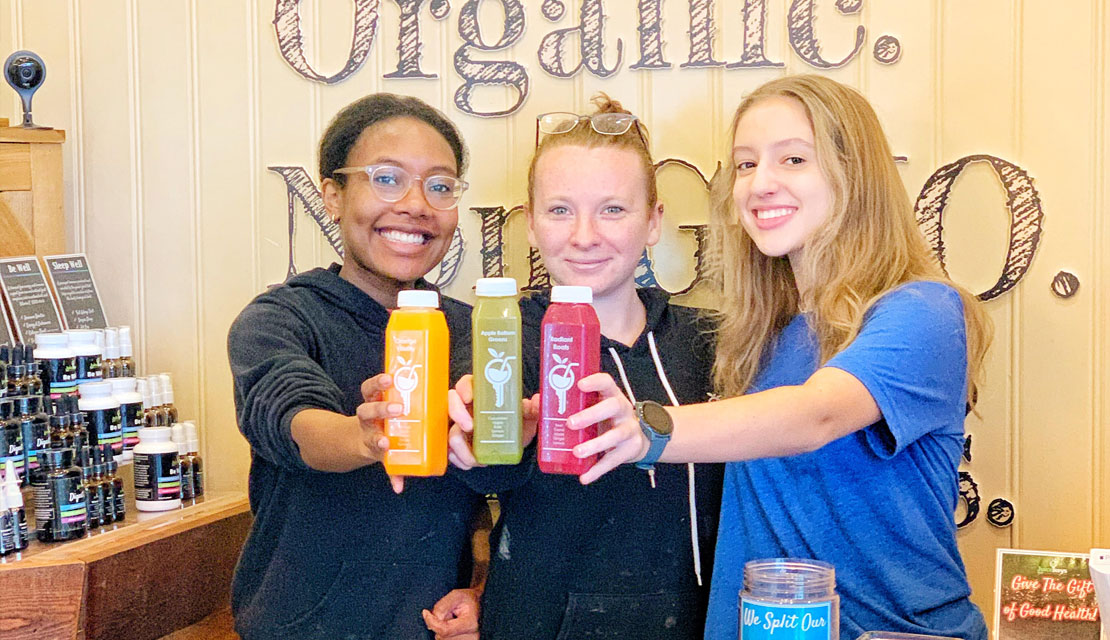 Job at Juicekeys is a Dream(sicle) Come True
For Danielle S., Store Operator at the Juicekeys Lafayette Village location, Juicekeys is a new beginning. Though she's only worked in our store for three months, she already has the feeling that her job at Juicekeys was meant to be—and we feel the same about hiring her! Whether she's slinging power bowls, making smoothies, or training new hires, Danielle has been an all-hands-on-deck kind of leader from day one, and we're lucky to have her. That's why we're using this week's blog to help our customers get to know her a little better.
From Long Island to Lafayette Village
Danielle grew up on Long Island and lived there until she moved to Raleigh a few months ago. The cost of living in Raleigh is more reasonable than that of Long Island, and for a single mom of a school-age child, cost of living is an important consideration. Both Danielle and her son have jumped into their new surroundings with both feet: Danielle as Juickeys Store Operator and her son as a Kindergarten in Wake County Public Schools (he enjoyed a Green Goodness Smoothie as an after school treat on his first day!). While it's always challenging to relocate, Danielle and her son are managing to feel right at home.
Family Matters
Family means a lot to Danielle, and so does working for a family-owned business. Before Juicekeys, Danielle was a department supervisor of a family-owned supermarket in Long Island. Danielle worked for the supermarket for nine years, starting at age twenty-one. Now, she's excited to be starting a new adventure with Juicekeys.
Her favorite thing about working for this family-owned, Triangle-based business? Her team feels like family! "We're a very tight-knit group," she says, "We all work really well together." In fact, when Danielle gets to work, she feels like she's just walked into the house of a family member. Not a bad way to start your day!
And that feeling of family togetherness extends outwards from the team and straight to the customers. "Sometimes," Danielle says, "Juicekeys customers will call just to check in on how I'm doing with my son and with my move." How great is that? We think we can speak for Danielle and our entire Juicekeys team when we say that our customers are hands-down the best ones out there.
A Dream(sicle) Come True
When she's not at work, you might find Danielle hanging out with friends & exploring her new city, attending a local Comic-Con (comic book convention, for the uninitiated), or hiking with her son. When she's in the shop, she's either happily helping a customer or working hard to solve any problems that arise throughout the day. On her break or after work, you might find Daneille enjoying one of her favorite Juicekeys treats:
The Dreamsicle Smoothie. This delicious blend of orange, mango, banana & creamy cashew butter reminds Danielle of the creamsicles her mom used to make for her when she was little.
The Mint To Be Smoothie. She recommends turning it into a custom power bowl and adding chocolate chips for a creamy treat that tastes just like mint chocolate chip ice cream!
Pop in to the Juicekeys shop any time to say hello to Danielle and all of our team members—we love connecting with our customers.
Here's to your health!

---