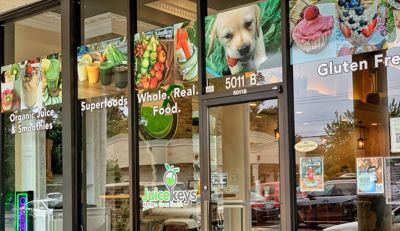 Juicekeys Has Changed Its Hours!
Earlier this summer, we changed our hours so that we could give our staff a full day to rest and recharge. Our current hours are as follows:
🍍Monday - Saturday: Open 7am to 6pm
🍍Sunday: Closed
This change gives our entire staff one guaranteed day off to rest and recharge. While we are huge believers in fueling the body with healthy foods, we also recognize the need for refueling the heart and mind! Our company values encourage our team to hustle, maintain consistency, care for themselves & others, and most importantly, be their best. A consistent day off every week offers them the chance to refuel in ways that help them to be their best selves, and that's a core company value we can stand behind.
If you're thinking, "Oh no! No chicken salad on Sundays?!" Never fear! Our current hours will still give you plenty of opportunities to grab your power bowls, smoothies, chicken salad, juice cleanses, and other healthy fuel!
Build Juicekeys Power Bowls (and More!) Into Your Routine
We get it, it's hard when your go-to smoothie shop closes one day each. We know you rely on us for healthy fuel, so we want to make sure you always have options for adding Juicekeys to your busy days.
Breakfast Energy
We know you really love a good power bowl for breakfast. We do, too. In fact, we're currently obsessed with the Blueberry Bliss Power Bowl (so good!). But there are those super busy days when it's nice to have the fridge stocked with some grab-and-go breakfast items like our Cashew Honey Energy Balls or Mmm Factor Protein Cookies. Both pair perfectly with a cup of black coffee or a glass of our cold-pressed juice. We also love starting our morning off by opening a capsule of our BeWell immune & energy booster and sprinkling it into our morning juice.
And lucky for you, every single one of these breakfast options can be purchased ahead of time and stored in your home refrigerator or freezer, so you'll always have a stock of healthy Juickeys fuel to get you through the weekend!
If you're really set on that power bowl breakfast, though, keep reading for our pro tips on how to purchase your favorite Power Bowl ahead of time to enjoy the next day!
Now, on to the next meal of the day …
A Hearty & Healthy Lunch
Any day of the week (and Saturdays, too!) You can pop into the shop for a working lunch, grab lunch and head back to the office, or sit and enjoy a meal with a friend.
Want lunch waiting for you on Sunday, even though we're closed? Grab a container of our fan-favorite Chicken Salad, a blend of highest quality chicken and a delicious blend of chopped veggies + just a touch of mayo (made with MTC oil and pasture-raised eggs). Pair it with a glass of Radiant Roots and you'll be on your way to a super productive afternoon!
And now, for that last meal of the day …
A Delicious Dinner
For dinner, go with a tried-and-true Juicekeys favorite: The Holy Cacao Power Bowl. This baby is packed with blended fruits (apple & banana), vegetables (zucchini), and protein (cashew butter + chocolate protein). It tastes more like dessert, but it's a perfect dinner for checking all your health goal boxes. Pair with our Digest Well to support healthy digestion and better absorption of the vitamins and minerals in your food.
Want to enjoy a power bowl for dinner on Sunday? Here's our Pro Tip for saving power bowls in your freezer (this method will give you the best overall consistency!):
Order your favorite Juicekeys Power Bowl with granola on the side.
Take your power bowl home and pop it in the freezer.
One hour before you're ready to eat, take the power bowl out of the freezer and let it thaw on the counter for 30 minutes.
Then, pop your power bowl into the fridge for an additional 30 minutes.
Take out of the fridge, top with granola, and enjoy!
Can't wait to see you in the shop, Juicekeys friends!
Here's to your health!

---