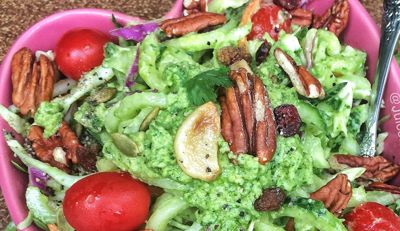 Kelly's Kreations: Cucumber and Sunflower Sprout Salad with Avocado Dressing!
This delicious salad is full of crunchy "spiralized" cucumbers mixed with a yummy avocado dressing. It is also an incredibly healthy salad as it is packed full of complete proteins from the Sunflower Sprouts! Did you know sprouts are 10 to 30 times more nutritious than any organic veggie!
INGREDIENTS
Salad
1 English cucumber, "spiralized"
1 C Sunflower Sprouts
Handful of Grape tomatoes
1/3 C Shredded cabbage
1/8 C Pecans
Dressing
1/2 Avocado
Juice from 1/2 lime
3/4 C Loosely packed cilantro (stems removed)
2 Roasted Garlic Cloves
1/4 C Olive Oil
1 tsp Raw Coconut Vinegar
1/4 tsp flavorgod Himalayan salt & Pink peppercorn (plain Himalayan salt will work too)
10 drops Liquid Stevia (or sweetener of choice)
INSTRUCTIONS
Salad
Wash sprouts, and place at bottom of Salad
Spiralize cucumber and mix with dressing
Add in tomatoes, pecans and shredded cabbage
Dressing
Blend all ingredients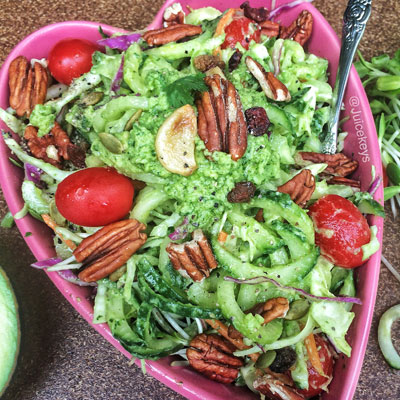 EQUIPMENT:
Paderno Spiral Vegetable Slicer
Fitting to Raw, Vegan, Paleo, Whole 30, and Clean Eating Lifestyles!
Gluten free, Dairy free, Soy free, Refined Sugar Free, and Non-GMO

---