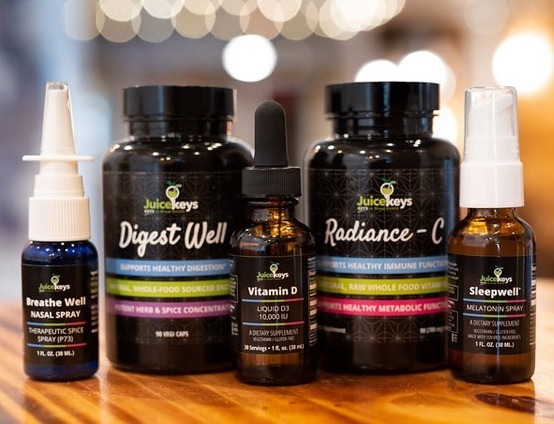 Key to Care Marketplace
Our Key to Care market place is where we sell our Juicekeys wellness products. Our market place came to life in 2020 with the popularity of our Liquid Vitamin D, although we have been selling and promoting it since 2016. We have grown out our wellness line from vitamin d to many other products we will discuss here. Our approach has always been to build health and wellness through consistent, daily habits. Everything from our menu to our wellness line is designed to support you in building healthy, daily habits.
Digest Well
As someone who takes almost every product in our wellness line, I can not emphasis enough the importance of daily habit building. In my opinion its what builds long term health and strength. My favorite product across our line, is our Digest Well. I usually take a few capsules of Digest Well about 30 minuets before my lunch and dinner, and it's really quite amazing in aiding in digestion and absorption. It helps to eliminate bloating and in my personal case, eliminates any acid reflux. Our Digest Well is packed with whole-food enzymes that serve as the catalyst for breaking down food and absorbing nutrients.
Radiance-C
Another excellent product we offer is our Radiant-C. It's our immune supporter that has tons of whole-food vitamin C and lots of antioxidants. All of which is derived from raw and natural fruit complexes. I prefer to take my Radiance-C with my Digest Well right before lunch. I've found it gives me a very subtle and smooth energy reserve, and keeps me building up my immune system. Our Radiance-C can also benefit skin, hair, nails, and help to regulate inflammation. Just like in everything we strive to do at Juicekeys, it is most effect built into your daily routine.
Breathe Well
Lastly, I want to highlight an excellent "feel good" product we highly recommend as an immune booster. Our Breathe Well is a wild oregano spice extract spray (based in natural sea salt spring water). Breathe Well is excellent for allergy relief, clearing congestion, and energy. I take it before, during and after all plane trips and long road trips. I also love to take it before workouts, as I find it gives me clarity of mind, as well as, an energy boost. It is definitely a strong spice feel, but it has an immediate impact in helping to re-focus and re-fresh your mind.
---
Please do your own research on any products you have interest in from our wellness line. Our statements are made to help educate and not intended to replace advice from your doctor. If you like a product and want to buy in bulk, we offer bulk quantities in every item with significant savings. We offer both a FREE shipping option and an expedited 2-day option. All of our products can be found here on our website. We donate 0.5% of all our marketplace sales to Operation Undergroud Railroad (O.U.R.), an organization that exist to rescue children from sex trafficking and sexual exploitation. The story of their founder, Tim Ballard, was recently made into a movie called the Sound of Freedom.

breathe,digest,healthy habits,key to care,oregano,vitamin-c,vitamin-d,wellness
---