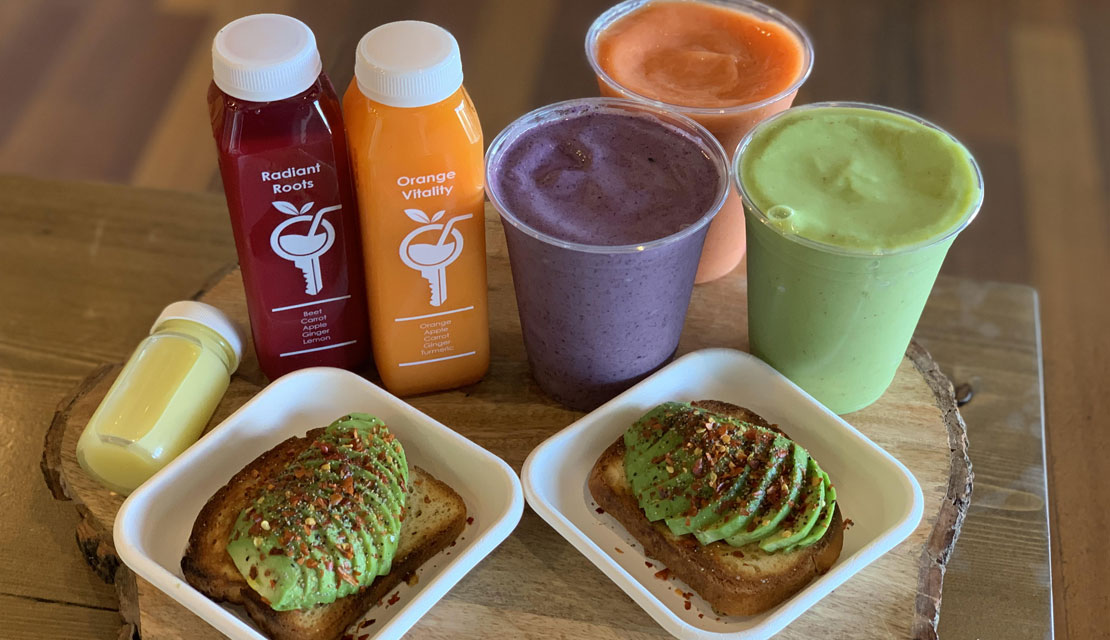 Let Go & Set Goals: A Juicekeys Journal Prompt
What is your favorite part of fall?
We love the crisp air, the changing colors of the leaves, and the symbolic reminder that we can let go. Autumn is a perfect time to reflect on the aspects of your life that are no longer serving you. It's also a great time to embrace new patterns, relationships, ideas, and habits that will guide you towards your best self. Trust us, you don't have to wait for New Year's Resolutions to start setting goals for healthy living. Start now! Come January, you'll already be two months into your journey.
To help you on the path to letting go and setting goals, we've created a short journal prompt. Before you get started, remember that letting go of what's no longer serving you can feel scary. It takes courage to let go. So grab a pen and a journal or piece of paper, take a deep breath, and remember the joy and accomplishment you feel after doing hard things. You got this!
Letting Go & Setting Goals Journal Prompt
Start by finding a comfortable place with few distractions. Maybe a cozy corner in your living room, a bench at your favorite park, or your favorite Juicekeys location. Bring a journal and a pen or pencil. If you're at home, light a candle.
Find a comfortable seat and take a few deep, slow breaths. Sit in stillness and reflect on this question: What am I ready to let go of?
Now, put pen to page and write for at least 10 minutes without stopping (it's a good idea to set a timer!). As you write, consider these questions:
What can I let go of this fall?
What habits, systems, relationships, and ideas are no longer serving me?
How will my life be improved by letting go of these things?
What's something new I can embrace this fall to bring me closer to the life I want?
After you stop writing, read what you've written. If you like, you can take the extra step of writing one or two specific goals based on your freewrite. At Juicekeys, our livelihoods are centered around healthy living, so our freewrite was all about letting go of excuses for not taking good care of ourselves. Our goal? To eat healthy and fuel our bodies with the nutrients they need to feel great!
Healthy Living Starts with a Healthy Mind
We believe it's really important to make time for self-reflection. After all, healthy living is about much more than a healthy diet and exercise. Your mindset matters, too! That's why we frequently remind ourselves that a healthy body starts with a healthy mind! Setting goals is easier when we've taken the time to be honest with ourselves about what it really takes to level up on our personal commitments.
Juicekeys is Here for You
We look forward to being a tool in your tool box for living a healthier, more joy-filled life! When you are short on time, on the go, or want a break from making food yourself, we are here for you with easy options that fuel healthy living. A few of our favorite on-the-go items that are perfect for self-care this fall: our Superfood Shots, our Cold-Pressed Juices, and our Avocado Toast or Chicken Salad! And if you're looking for something that tastes like dessert but is actually packed with protein, antioxidants, and vitamins, try our Pumpkin Pie Power Bowl.
If you're setting goals this fall, we want to hear them! Share in the comments, or tell us the next time you're in the shop. We love talking to customers about healthy minds & healthy bodies!
Here's to your health!
Kelly & Chris

---