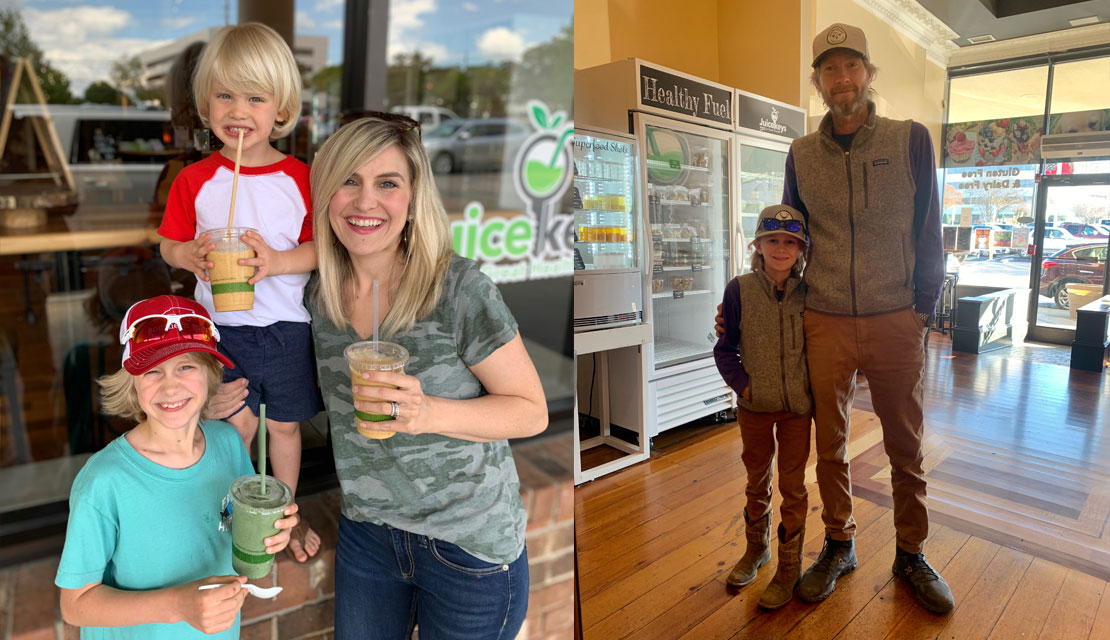 Local Builder Shakes Up His Routine with Protein Shakes
Raleigh builder Chris Neese is always on the go, and Juicekeys protein shakes help keep him moving. With several new home projects on his plate at once and four kids at home, there's never a dull (or still) moment for Chris. Often, he eats his meals in his truck on his way from one job to another. For a long time, his on-the-go meal was a biscuit sandwich from a local biscuit franchise, but he began to realize that biscuits weren't giving him the energy he needed to get through the day. Then, he discovered Juicekeys. "I'm tall and lanky, and Juicekeys has helped me to maintain a healthy weight," Chris says. "It's a health thing for me. I feel good after I eat it instead of run down and tired. I feel like I have the energy I need to go out and do what I have to do for the day." Today, he jokingly calls his preference for Juicekeys an addiction.
Over the past four years, Chris's love for Juicekeys has become a family affair. The Neese family comes into the shop almost daily for healthy smoothies and protein shakes, and the entire staff loves seeing the smiling faces of Chris, his wife Heather, and their four kids, aged 9, 7, 5, and 3. For Heather, it's the transparency of the Juicekeys menu that appeals to her. "It's hard to find places that have good organic food, where you know it's organic and also free of additives and sugars," she says. "We've tried to teach our kids that what we put in their bodies will help them function at their highest potential — in their thinking, in sports, in everything. They notice the difference when they don't eat well." This is especially true for one of their children, who they've noticed is susceptible to dyes in food, an issue that has made the Neeses more conscious about how to approach healthy eating with their kids. Chris echoes Heather's sentiment about the benefits of Juicekeys. "They know what healthy food is," he says of he and Heather's four kids, "and Juicekeys is helping with that. It's like ice cream, but it's healthy."
If you're a busy family looking to shake up your routine with healthy smoothies for kids + healthy options for mom & dad, let us inspire you with a run-down of the Neese family favorites:
Chris's first Juicekeys love was the Gimme 'Mo Power Bowl, a coffee-infused bowl layered with granola, coconut, and chocolate chips. Later, he became interested in protein shakes and switched to the Mo' Mocha, a protein shake smoothie with almond butter, locally brewed coffee, and the sweetness of bananas and dates.
Heather is a fan of the Piña Colada Smoothie, a tropical blend of pineapple, vanilla protein, and cashew butter — perfect for spring & summer. Around the holidays, she loves our Candy Cane Smoothie.
The Neese kids love almost all of the power bowls & protein shakes at Juicekeys, but a popular choice is the Holy Cacao Power Bowl. Its banana chocolate mousse flavor + chocolate chip topping will thrill the kids, and the blended-in zucchini will please mom & dad!
We think the Neeses are pretty great, but you don't have to take their word for it. Come in to Juicekeys and grab your own protein smoothie to power up your day. And bring the kids!
Here's to your health!

---