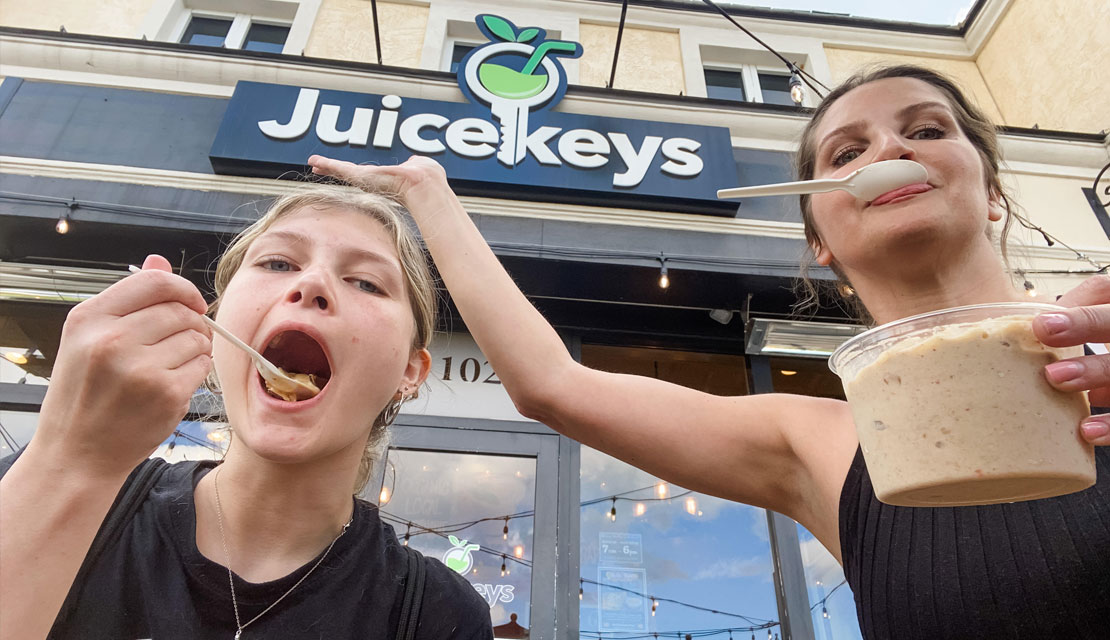 Local Spa Owner Powers Up with Power Bowls
There aren't many things we love more than organic smoothies, power bowls, and healthy eating, but there is one thing we get really jazzed up about: supporting small, local businesses! As a family-owned, Triangle- based business, we know how important it is to put our dollars back into the local economy, and we are so appreciative when our customers do the same. And here's what's even more exciting to us: when local business owners support local business owners! Over the years, we've learned that so many of our loyal customers are entrepreneurs who own amazing businesses nearby. Do we frequent those businesses? You bet we do! And today, we're featuring one of our favorite customers and small business owners: Jenny Abhau of White Dahlia Massage and Facial Spa.
What is White Dahlia?
White Dahlia is a local, membership-based massage and facial studio located in North Raleigh. Members can apply their monthly draft towards massages, facials, lash lifts & tints, or red light laser rejuvenation treatments. White Dahlia is fifteen years strong and Jenny currently employs fourteen massage therapists, three estheticians, and two laser techs. The philosophy of this studio isn't dissimilar from the mission at Juicekeys: to promote happiness and wellness as a consistent part of your lifestyle. Maybe that's why we feel such a great connection to Jenny!
White Dahlia Meets Juicekeys
Jenny's daughter Jill just happens to work in Lafayette Village, right next door to the Juicekeys flagship location! When Jill gets off work, they enjoy hitting up Juicekeys for a mother-daughter date, and they always order from our Power Bowl Menu! Jenny loves the power bowls because they are so fresh and she appreciates the high-quality ingredients. "I recently had a berry bowl at another smoothie shop and was really disappointed," she says. "It just wasn't as creamy or as flavorful as the Juicekeys Power Bowls." (Thanks, Jenny!).
Jenny & Jill's Favorite Power Bowls
In the time they've been coming to Juicekeys, Jill and Jenny have landed a couple of favorite menu items:
Jenny's Favorite Power Bowl: Key Lime Pie. This power bowl is a healthy & delicious take on the traditional sweet & tart dessert: coconut water, lime, banana, apple, cashew butter, vanilla protein, and stevia layered with gluten-free granola and topped with fresh cut bananas & toasted coconut chips. Yum.
Jill's Favorite Power Bowl: Strawberry Bliss. The strawberry-banana flavor in this power bowl is accentuated by sweet apples and chewy dates, then layered with gluten-free granola and fresh cut strawberries. Blissful.
Trading Power Bowls for Massages & Facials
Lucky for us, Jenny is a business owner who loves to barter. We've traded gift cards for gift cards with White Dalia, and we love that Jenny offers our gift cards to White Dahlia members on their membership anniversaries! She says she's "hoping White Dahlia clients will also support local businesses." Maybe they'll fall in love with a Juicekeys Power Bowl while they're at it!
Thanks for taking the time to get to know Jenny and her business! Are you a local business owner? Pop into the shop and tell us about what you do. We love connecting with our local small business community!
Here's to your health!

---