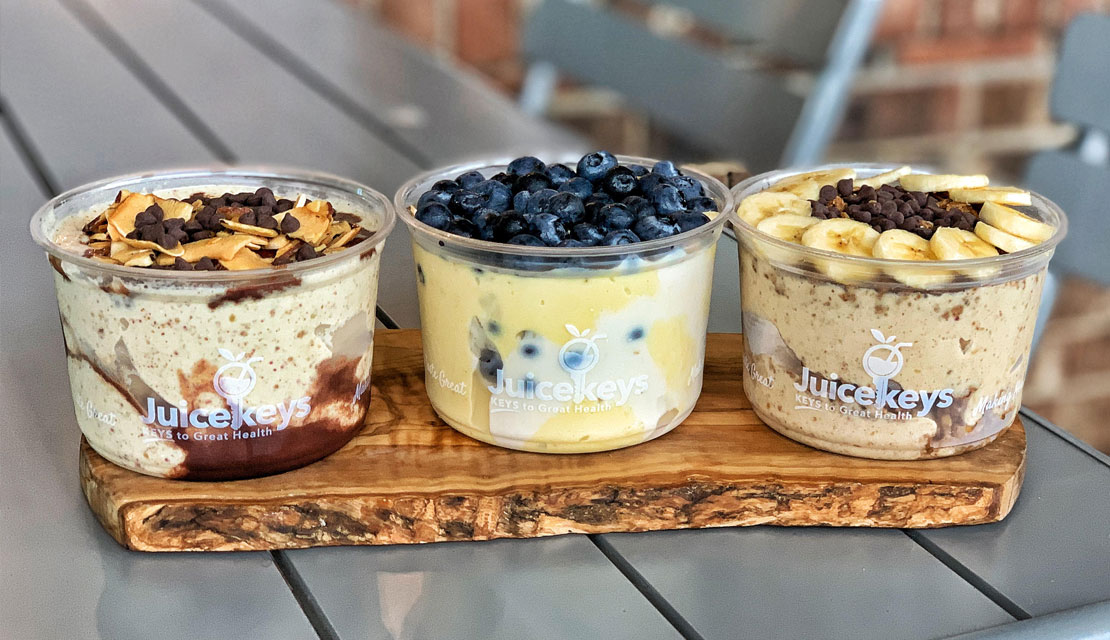 Make Your Smoothie a Power Bowl
Make Your Smoothie a Power Bowl
Juicekeys is a family-owned business with humble roots, and we like it that way. But if we ever get famous, we hope it's for providing our customers with the keys to better health. The busy folks who frequent our stores need healthy, great-tasting food on the go, and that's exactly what we offer—minus the artificial additives and preservatives found in popular fast food chains. Our smoothies aren't just drinks, they're tools for healthy living. And when you turn our smoothies into smoothie bowls—or power bowls, as we like to call them—you're getting a complete meal!
Start with Healthy Smoothies
Like we said, our smoothies are more than just drinks. While we have a wide range of great flavors on our menu—from Strawberry Cheesecake to Pumpkin Pie—all of our smoothies are created with the same guidelines in mind. Everything that goes into our smoothies and power bowls is perfectly portioned to provide a balanced blend of superfoods, protein, healthy fats, and super fresh fruits and vegetables. Our goal is for customers to feel satisfied and energized after eating one of our healthy smoothies.
Make that Smoothie a Power Bowl
Almost all of our healthy smoothies can be turned into power bowls. With added toppings of your choice, these bowls make a complete breakfast or lunch, and they're perfect for an energizing and nourishing post-workout treat. The texture is so thick, it's hard to believe you're not eating soft-serve ice cream!
Our Favorite Smoothies Turned Power Bowls
We don't make a smoothie we don't love, and the same goes for our power bowls. But over time, we've developed a few favorites. Here are our three favorite smoothies to turn into power bowls + our recommendations for how to enjoy them:
The Banana Bread Smoothie / Power Bowl
The Banana Bread Smoothie is a cult classic here at Juicekeys. It's an ultra-creamy blend of apples, bananas, fresh dates, vanilla protein, and cashew butter. To make it a smoothie bowl, top it with granola, chocolate chips, and freshly sliced banana. It's like home-baked banana bread fresh out of the oven … but better!
The Dreamsicle Smoothie / Power Bowl
The Dreamsicle Smoothie is truly a dreamy combination of flavors: sweet mango is blended with our in-house orange juice, creamy cashew butter, and vanilla protein. To make it a smoothie bowl, top it with our in-house maple cream (it's the stuff dreams are made of), blueberries, and coconut chips. Dreams really do come true!
The Apple Pie Smoothie / Power Bowl
What's better than good old-fashioned apple pie? Well, maybe our Apple Pie Smoothie. Sweet apple goodness mixed with creamy nut butters, dates, and vanilla protein make for an exceptionally tasty twist on this American classic. To make a smoothie bowl, top it with our in-house chocolate sauce, granola, and chocolate chips.
How to Order Your Smoothie as a Power Bowl
You're excited about these power bowl opportunities, we can tell. To make it happen, all you have to do is pop into one of our Triangle locations. You can order first on our app, or order right in the store. Here's how:
In Person at One of Our Juicekeys Locations
Don't have the app yet and just popping in to check us out? Here's how to order your power bowl:
Select the smoothie of choice form our menu (our friendly staff will be happy to help you decide!).
Ask the Juicekeys staff member to please "make it a power bowl!"
Select three toppings of your choice.
Enjoy your power bowl!
On the Juicekeys App
Honestly, if you don't have the Juicekeys app yet, now is the time to download it and get great deals on smoothies, power bowls, and all kinds of healthy fuel for your body. Grab it here for Apple and here for Android. Once you have the app, here's how to order your power bowl:
Open the Juickkeys App.
Select your smoothie of choice from the menu.
Select the button that says "Make it a Power Bowl."
Select three toppings of your choice.
Come pick up your power bowl, and enjoy!
Some of our best recipe ideas come from our customers, so we want to hear your favorite power bowl combinations. Share them in the comments or when you stop in to pick up your power bowl.
Here's to your health!

---