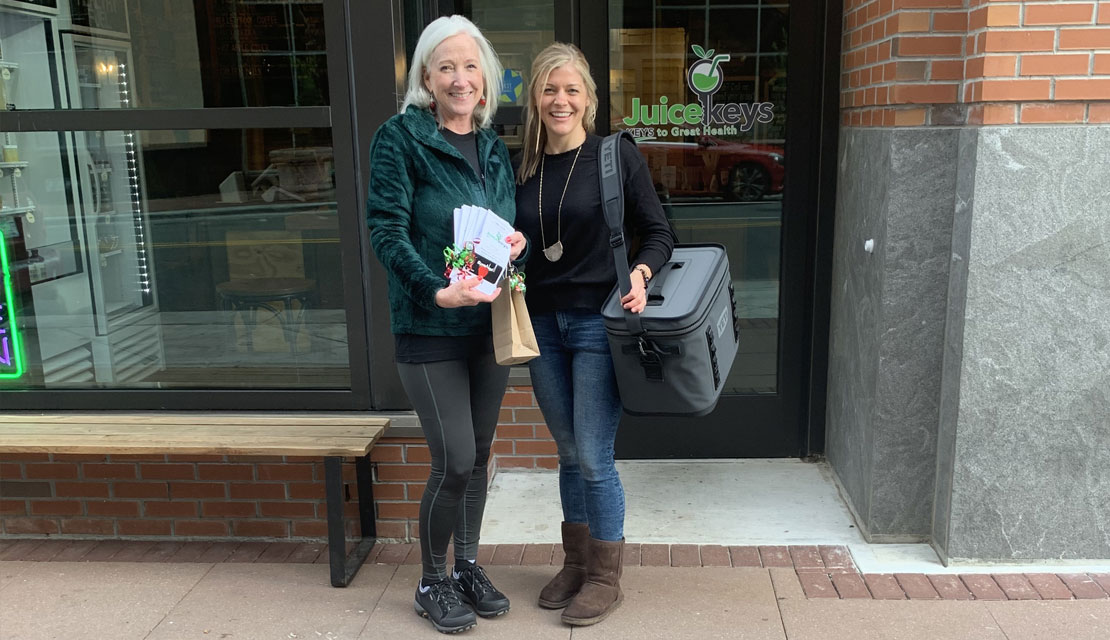 Meet the Organic Smoothie Queen of Durham!
At Juicekeys, we count ourselves lucky to have one of the best teams ever. In all three of our locations, we're supported by amazing individuals who work hard and believe in the Juicekeys mission. In today's blog, we're honoring Theresa Crispell, our Durham Store Operator since September of 2019. Theresa isn't just a great person who's fun to be around, she also holds down the store like nobody's business. Since we're so grateful for her, we wanted you to get to know her a little better, too!
Theresa first discovered Juicekeys on a walk through Durham with her sister, who has lived in Durham for nearly 30 years. Theresa had been living in Raleigh for about 10 years, but her sister (and a really great organic smoothie shop!) convinced Theresa to make the move to Durham. Before applying to Juicekeys, Theresa worked as an administrative assistant and as a paralegal. She was known in those roles as being very organized and for always staying ahead of the game. When she made the move to Durham, though, Kelly knew it was time for a change. About taking a position at Juicekeys, Theresa says, "It just felt good to do something outside of the box."
Today, Theresa couldn't be more pleased with her decision to take the leap to something new. "I had a restaurant job when I was 15 years old at a Dairy Queen. Other than that, I had no experience in food prep, but Chris and Kelly just welcomed me in and encouraged me." Theresa started out at the front of the house, doing customer service and taking orders before moving up to Store Operator. "I always thought I was an introvert," she says, "but through this job I've learned that I really enjoy talking to people and learning about people's lives. That's been cool, because I never thought I could do that before."
While customer service is definitely Theresa's niche & newfound love, she also thrives in the kitchen, helping to make smoothies & power bowls, learning everything she can about the ingredients so that she can be knowledgeable for Juickeys customers. Getting closer to the production process has helped Theresa to really get behind the Juickeys missin of delivering healthy, organic food to customers. She appreciates that she can help contribute to the better health of Juickeys customers, and she can see that her own health has improved as a result of the job. She walks to work just about every day and is eating better since being exposed to so many healthy, delicious ways to eat. "It's been good for my mental health, too," she says. The social interactions make her feel connected to a community, and she takes pride in what she does—which just makes her feel good. "It feels like you're making a difference here, and as a team member, you feel like you count." She describes the experience as uplifting and gratifying.
When she's not working at Juicekeys, you might find Theresa strolling through downtown Durham, spending time with her three kids and all their local family, or enjoying the Triangle restaurant scene. She's also been known to pop in to Juicekeys on her days off for one of her favorite treats: The Pina Colada Smoothie (like a vacation in a cup!), the K's Way Smoothie (sweet with a little bit of spice), and the Strawberry Shortcake Power Bowl (like a strawberry sundae, but good for you).
We just can't say enough great things about Theresa, and we hope you'll stop by our downtown Durham store soon to grab a smoothie & say hello!
Here's to your health!

---