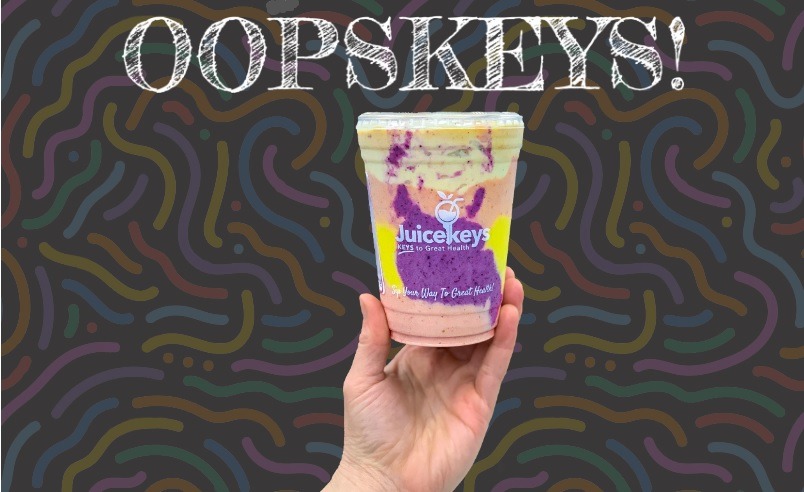 OOPSKEYS
OOPSKEYS represent our creative way turning failures into successes at Juicekeys. An OOPSKEY smoothie becomes an OOPSKEY because we either made the smoothie forgetting an ingredient, or with the wrong ingredients, or is made from the extra of other smoothies that were over proportioned. We sell our OOPSKEYS for $6.00 at the front of all Juicekeys. Usually, OOPSKEYS are frozen solid and make a great "next-day" breakfast, or in many cases, a nice snack that last most the day. Our customers have come to love OOPSKEYS because they are able to taste many of our flavors (all in one smoothie😉), but also get the same high value ingredients used in our menu. Not to mention, they maximize this value at a price of, essentially, half-off our regular menu smoothies.
OOPSKEYS Guide
Here's a quick guide to help you recognize what you may be seeing with different OOPSKEYS.
Have fun with OOPSKEYS
The idea of OOPSKEYS is meant to be fun and creative. It is a fun way for our kitchen staff to be resourceful and to create different color and taste designs for every OOPSKEY. But it's also meant for our customers to have fun selecting OOPSKEYS while trying to figure out what is in them! We hope you enjoy all aspects of this idea, and are able to take advantage on the savings and enjoyment OOPSKEYS brings to your Juicekeys experience.

Juice,Juicekeys,North Carolina,Smoothie,Smoothie bar,Smoothies
---