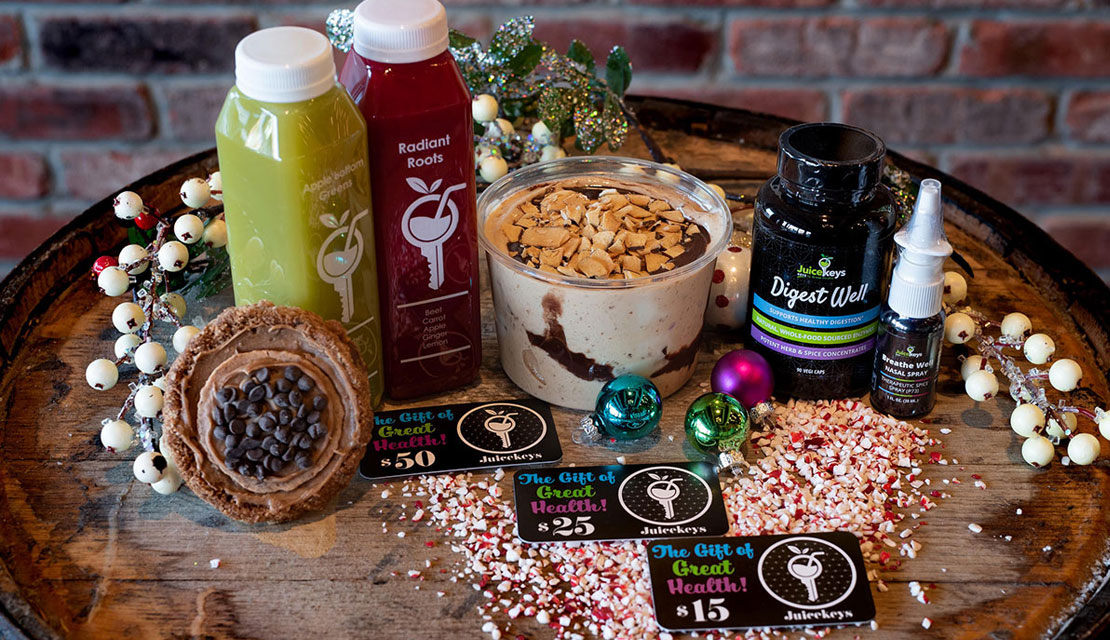 Power Bowls Make Great Gifts
Well, the holidays have officially arrived. In fact, Christmas is right around the corner. And while "the season of giving" has a lovely ring to it, all that holiday shopping can be pretty stressful. Lucky for you, we have a way to simplify your 2021 Christmas list: Juicekeys Gift Cards!
In our blogs, we often talk about the health benefits of the ingredients that go into our power bowls, smoothies, and juices. Today, we're going to talk about the health benefits of gifting a Juicekeys Gift Card. We work hard to make sure our menu items are packed with the absolute best ingredients available. That's why we truly believe that giving the gift of Juicekeys is giving the gift of health to the people you love.
How to Gift a Power Bowl
We love the idea of showing up at a friend's door with a power bowl all wrapped up in a pretty bow. But in case that's not realistic, give them the gift of Juicekeys in a slightly simpler format: a Juicekeys Physical or Digital Gift Card. Here's how:
Order a Juicekeys Physical Gift Card in $15, $25, or $50 increments. We'll send the Gift Card straight to the recipient or straight to you so that you can pop it into a stocking or hand it directly to a friend.
Need a last minute gift or something super easy? Order a Juicekeys Digital Gift Card through the Juicekeys App to make it easy for your friends and family to order healthy smoothies online. Just remember that this gift is delivered to the recipient instantaneously. (And if you use our Juicekeys App, heads up that we'll soon be changing its name to KEY CASH!)
Finally, you can always purchase a Juicekeys Physical Gift Card when you pop into the store for a power bowl or smoothie of your own. While you're there, grab a bottle of our Radiant C or Breathe Well and put it in a gift bag with the Gift Card. You'll be giving an immune boosting gift that lasts all season long!
Power Bowls for the People
So, we've established that our Gift Cards are a darn good idea. So, who should you give them to? We're guessing that you already have a few ideas for people in your life who could benefit from a free power bowl or smoothie. But just in case you need some inspiration, here's a list of people who might really love a little Juicekeys love in their lives:
School staff, including teachers, teacher's assistants, principals, custodial staff, and librarians.
Friends and colleagues who want to invest in their health and could use a positive kickstart.
On-the-go students who need quick but healthy fuel throughout their busy days.
Awesome employees and extra-special clients.
Once they receive your gift, recipients can use their Gift Cards for cold-pressed juices, healthy smoothies, power bowls, and supplements.
Happy Holidays, everyone! Here's to a season of great health and stress-free shopping!
Here's to your health!

---