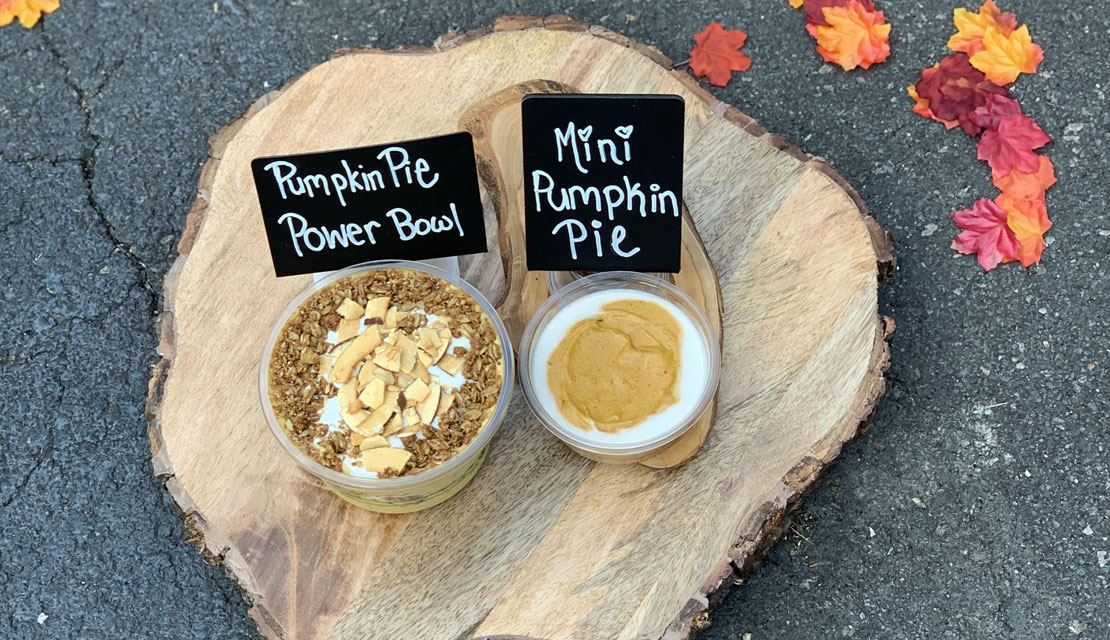 Say Hello to Pumpkin Power Bowls & Smoothies!
Fall is officially here! That means cooler temperatures, beautiful colors to brighten your walks, and a big hello to warm & cozy flavors. At Juicekeys, autumn brings a few very special seasonal menu items: the Pumpkin Pie Power Bowl, our Mini Pumpkin Pie, and our famous Pumpkin Pie Smoothie. All three are vegan, gluten-free, and completely delicious. The seasonal power bowls & pies are already in our stores, and they'll be there through November 9th! The Pumpkin Pie Smoothie stays on our menu all year—it's THAT good!
Here's a little bit about our inspiration for these products, and an overview of the products themselves.
What's so great about pumpkin?
The pumpkin, associated with fall holidays because it's ready for harvest just in time for Halloween and Thanksgiving, has long been a symbol of abundance and plenty. The harvest is a time to reap the benefits of the seeds we planted earlier in the year, and at Juicekeys, we intend to do just that—in the form of Pumpkin Power Bowls! Here's a few more things that are great about pumpkins:
🎃 Pumpkins are rich in a number of immune-building vitamins & minerals, including Vitamin C and folate.
🎃 That rich orange color means pumpkins are packed with beta-carotene, which may support the health of your eyes, your skin, and your overall immune system.
🎃 They're a good source of potassium and are high in fiber.
🎃 Pumpkins contain anti-inflammatory properties.
The Pumpkin Power Bowl
Our Pumpkin Power Bowl—available through November 9th— is packed with pumpkin, nut butters, vanilla protein, and dates, then layered with granola and topped with maple cream and a sprinkle of sliced almonds. People tell us that eating the Pumpkin Power Bowl is just like eating a big bowl of pumpkin ice cream! This is one of our very favorite healthy treats for fall.
Mini Pumpkin Pies
These little protein-packed pies are crowd favorites—and for good reason. They're made of pumpkin (of course!), cashew butter, almond butter, vanilla, dates, maple syrup, spices, chocolate chips, and sea salt. They're the perfect, personal-sized treat for the fall season. Want to grab one for everyone at your Thanksgiving table? They freeze beautifully and will store in your freezer for up to six months! Grab them before November 9th to have them for the holiday.
The Pumpkin Pie Smoothie
Our menu of organic smoothies has something for every time of year: tropical tastes in summer, chocolate & mint for winter, and warming pumpkin for fall. While the Pumpkin Pie Smoothie is on our menu all year round, we especially enjoy it this time of year when it matches our cozy fall vibe. In this smoothie, the pumpkin is sweetened with bananas and dates and then warmed up with autumn spices. You won't be sorry you tried it!
Help us celebrate the fall season by popping into the shop for a power bowl and quick hello! We love chatting with our customers any time of year.
Here's to your health!

---