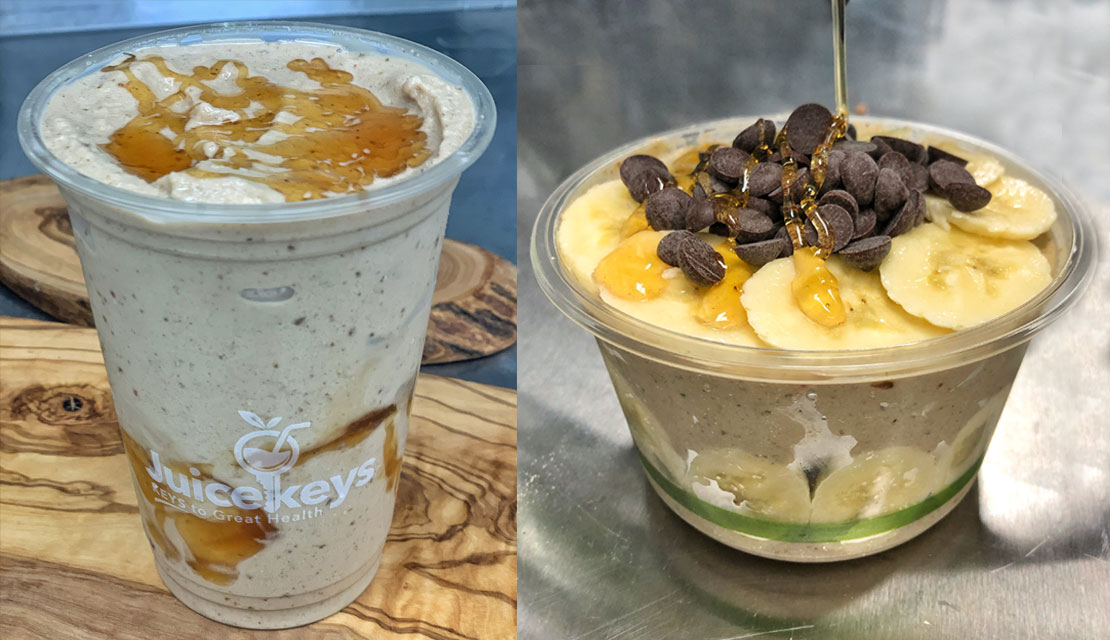 Smoothies & Juice, Meet Apples & Honey
We're heading into fall, and that gives us a whole lot to celebrate, including hopefully cooler temperatures. We love celebrating the warm colors & flavors of fall with our smoothies, juices, and power bowls.. While we're not quite ready for pumpkin spice season (that's next month!), we are ready to celebrate two of our other fall favorites: apples and honey. As it turns out, September is National Honey Month, and October is National Apple Month. So, it's definitely time to start celebrating these two super smoothie & juice ingredients.
Upping Our Smoothie Game with Honey
In ancient Egypt, honey was considered sacred and honeybees were seen as messengers of the gods. In fact, with its golden color and sweet taste, honey shows up in mythology and religious lore around the globe! We think honey is pretty wonderful, too. Here are a few things we especially love about it:
🍯 Honey is the perfect natural sweetener. We use a touch of it to lightly sweeten many of our smoothies & power bowls.
🍯 Local honey can help allergy sufferers build a resistance to local allergens.
🍯 Honey is a good source of iron, calcium, & magnesium.
🍯 Honey is rich in antioxidants that can help build immunity & fight disease.
Considering all of those benefits, we're grateful that honey is a regular part of the Juicekeys routine. Here are some of our favorite ways to use it:
🍯 We use it to sweeten our Strawberry Cheesecake Smoothie, which also includes fresh strawberries, nut butter, vanilla protein, and pops of cinnamon. Honey also plays a star role in our popular Blueberry Bliss Power Bowl and our Banana Bread Smoothie!
🍯 We love to layer honey into smoothies and power bowls. The cold ingredients make the honey freeze up for a delightful crunch—almost like caramel! One of our favorite power bowls for layering with honey is the Holy Cacao Power Bowl.
Apple Treats at Juicekeys: Smoothies, Juices, and More
It's no wonder that in ancient Greek & Roman myth, apples are referred to as symbols of love and beauty. They do so much to promote health & wellbeing (& they taste delicious!). Here's a few reasons, why we love apples:
🍎 They're an excellent source of soluble fiber, which makes them great for your digestive system.
🍎 They're a great source of Vitamin C & powerful antioxidants.
🍎 They're a wonderful, natural sweetener for juice, smoothies, and powerbowls.
Apples really are the apple of our eye here at Juicekeys, and you can find them in several of our menu items. Take a look:
🍎 Apples are a star ingredient in our popular, cold-pressed Apple Bottom Greens, a blend of sweet apple, cooling cucumber, tart lemon, and leafy greens + a dash of ginger.
🍎 Apples also star in our Apple Pie Smoothie, a blend of apples, creamy nut butters, vanilla protein, and dates. It really does taste like an apple pie!
🍎 For a fun treat (perfect for kids after school), turn your Apple Pie Smoothie into a Power Bowl by layering it with honey, coconut chips, and chocolate chips. You won't be sorry!
As the summer months head into autumn, we'd love to see you pop into Juicekeys to try some new flavors. And we hope you enjoy celebrating National Apple & Honey Monthes!
Here's to your health!

---