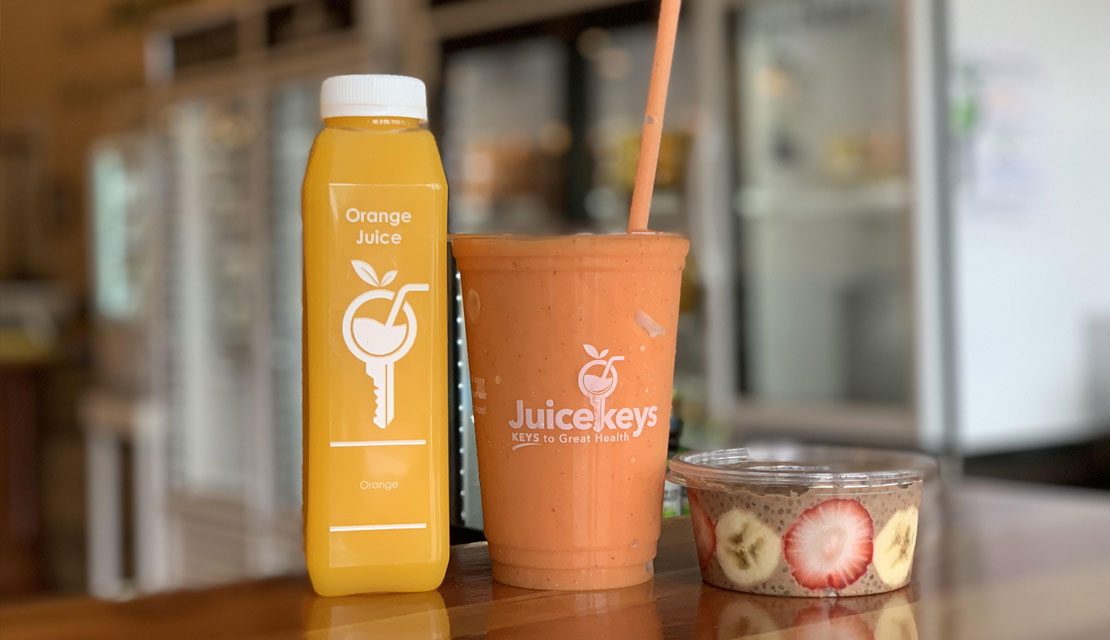 Back to School Treats for Big and Little Kids
Due to the pandemic, school schedules have been all over the place for kids, which means that adult schedules have been all over the place, too! When our schedules are out of whack, other things can fall off the track, too—like exercise, diet, and other good habits.
Lucky for us, school is about to start back up again, which means a schedule kids and parents alike can count on! As you get back to that more predictable schedule, you can also count on Juicekeys to be here for all of your healthy fuel needs, from power bowls to organic smoothies to lunch box treats.
Breakfast Fuel
Starting them off on the right foot in the morning is key to a great day at school. That's why every elementary school teacher ever will tell you: feed that kid a healthy breakfast! Whatever healthy foods you pick for your family's breakfast, we recommend pairing it with a glass of our Cold Pressed Orange Juice, or if your kids like a little spice, try our Orange Vitality, which has a delightful kick of ginger. Open up a Be Well capsule and mix it into their juice for an extra, immunity-boosting dose of Vitamin C.
After School Snacks
What kid doesn't love an after school snack? While it may be easiest to send your kiddo to the pantry to munch on Cheez-Its and pretzels, with just a little bit of planning, you can offer after school snacks that are both healthy and kid-approved. Here are our favorites:
Organic Smoothies:
Our kid favorites are the Dreamsicle Smoothie and the Tropical Bliss Smoothie. If you have time to pop into the store with your kids after school, we'd love to see you! If not, take our smoothies home and pop them in the freezer, and then take them out about one hour before your kids get home from school. After 30 minutes on the counter and then 30 minutes in the fridge, they'll be just as delicious as they were the day you ordered them. After they have been frozen and thawed they go great with a spoon for more of a soft serve ice-cream feel!
Energy Balls:
If your kiddo attends an after school program, send along an energy-building power ball like our organic Holy Cacao Energy Ball: they're chewy, crunchy, sweet, and salty all at once. But watch out, your kids' friends might be jealous!
Treats after Games & Events
We're not necessarily of the mindset that every kid on every team needs a trophy or a medal. However, we do love the idea of moms, dads, coaches, and caregivers being prepared with a little something special to make kids feel appreciated after all that hard work on the field or on the stage. So, if your kid just rocked a saxophone sola or played hard on the soccer field, we have some ideas for great after-event treats. Here's what we recommend:
Protein Cookie:
The Mmm Factor Protein Cookie is a tasty blend of coconut, almond, cashew, vanilla bean, and more. It's a healthy snack that tastes and looks like a decadent treat, so it will make your kiddo feel extra special.
Power Bowls:
You could take them out for ice cream, sure. But you could also treat them to a Strawberry Shortcake Power Bowl, which is our healthy twist on this classic dessert. We've yet to meet a kid who doesn't like it!
A Little Something for Mom and Dad
Moms, dads, teachers, and other caregivers also need healthy ways to boost their energy and stay on top of their game (this parenting gig can be pretty hard work, as it turns out!). Here are our favorite parent pleasers:
Superfood Shots:
For parents and other caregivers, we especially recommend the Tumeric-Lemon (an earthy-flavored shot with huge anti-inflammatory benefits), and the Wild Oregano (a powerful immune booster and detoxifier).
Wellness Supplements:
Try our Sleep Well and our Breathe Well for more restful sleep and a more vital immune system.
We hope all of our Juicekeys customers, big and small, are enjoying the back to school season!
Here's to your health!

---