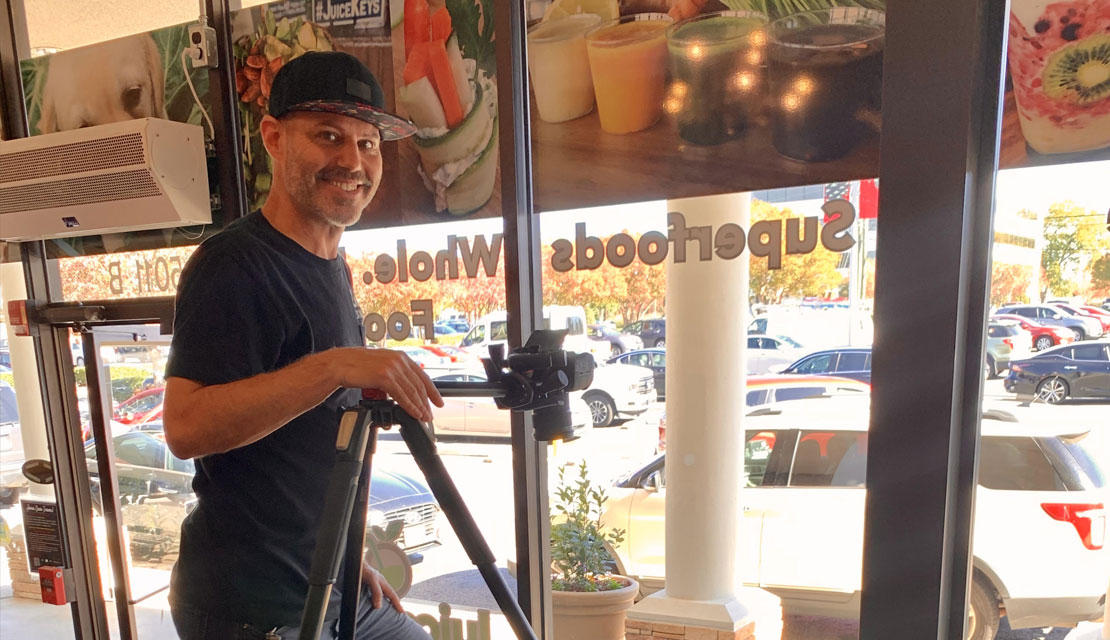 Blueberry Bliss for Brock Byers, Photographer
When you place your online smoothie and juice orders with Juicekeys, you're probably clicking on the professional photography of Brock Byers. And if you're an in-store regular, you might have seen Brock in action, photographing our smoothies, juices, and power bowls (including his favorite—Blueberry Bliss, hold the strawberries).
Though Brock has had a long career in the medical industry—first in surgical imaging and then in orthopedic implants—photography is his true passion and steady side hustle. Years ago, an old college roommate asked Brock to shoot a campaign for his ad agency, and Brock jumped right in. The campaign was a huge success, and Brock has been working as a commercial photographer ever since. "It allows me to use my creative side," he says, "which I really enjoy."
Brock discovered Juicekeys when the flagship store first opened, and he's been a steady customer since his first visit. In fact, Brock credits Juicekeys with a huge shift in his approach to health and fitness. In his corporate job, Brock was struggling to find a good work/life balance. The long hours weren't conducive to healthy eating and made exercise a challenge. But when he started noticing the effects of unhealthy eating—high blood pressure, high cholesterol, and migraines—Brock knew it was time for a change. He watched a documentary recommended by a friend, What the Health, around the same time that he discovered Juicekeys. A switch to healthier foods plus an increase in the hours he spent mountain biking (a favorite pastime) led to significant changes in how he felt. He lost weight, had more energy, and watched his health problems simply disappear. During this time, he says, "Juicekeys was really my go-to." When he came into the shop for power bowls and smoothies, he also found that talking with Kelly about healthy lifestyle changes was helpful. "She has so much knowledge in this area," he says, "and I trusted her." When Brock completed a 33-mile mountain bike race, he knew the health changes he'd implemented were going to stick.
Brock spends much of his time working, taking pictures, and (of course) enjoying power bowls from Juicekeys. But in his spare time, you might find Brock tooling around town with his dog and his mountain bike or loading up his surfboards for a trip to the coast. A lifelong surfer, Brock named his photography business Shaping Bay Imagery after the special room where surfboards are made. Brock also enjoys spending time with his son Lane, a website development student in Chapel Hill, and keeping up with his daughter Logan, who runs a photography business in Bozeman, Montana.
At Juicekeys, we're all big fans of Brock, and we're super grateful that he's a fan of us, too!
Here's to your health!

---