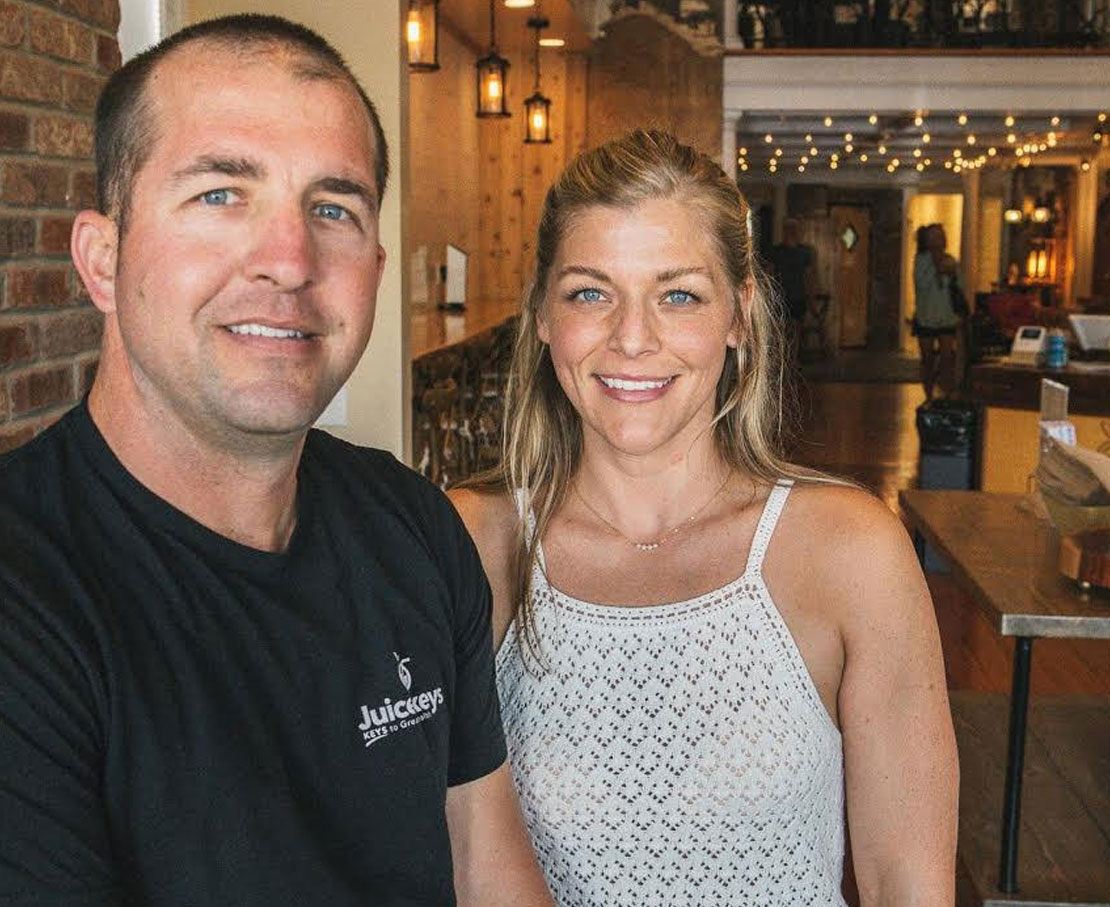 Meet Kelly Young, Raleigh's Cold-Pressed Juice Innovator
Juicekeys Co-Owner Chris Young here with this week's blog. If you've been reading our weekly musings on raw, cold-pressed juice, organic smoothie recipes, and living healthy, you know that our blogs are usually a team effort, taken on by myself and Juicekeys Co-Owner, Kelly Young (who also happens to be my sister). Today, though, I'm going solo in an effort to help our new readers get to know Kelly just a little bit better. Kelly is much too humble to write an entire blog about herself, and I'm always here for a chance to brag on my little sis! So, here it goes. Juicekeys fans, meet Kelly Young …
I'll start by saying that Kelly has always been by my side. Having her as my biggest fan has been one of the keys to my success. It's safe to say that the same is true for Juicekeys: she is the heart and the brains behind the brand. When I played football at NC State, and later, when I joined the Marines, Kelly was always there to cheer me on. And when I floated the idea of opening Juicekeys, she was with me every step of the way. Today, she continues to support both me and the Juicekeys brand, but she's much more than a cheerleader: she's an innovator, an educator, and a passionate advocate for healthy eating.
Innovator in Raw, Cold-Pressed Juice
During my overseas deployment with the Marines, Kelly had been diving into healthy living—researching wheatgrass, green juice, spirulina, and the healing qualities of organic foods. When I returned, I was struggling with chronic headaches, and so much time in the desert had left me with body aches and skin issues. As I started to embrace Kelly's ideas around food and nutrition, my health began to steadily improve. Today, thanks to Kelly, I understand the connection between what I put in my body and how I feel. I also understand, as someone now steeped in the health food industry, that Kelly was way ahead of the game when it came to innovations around juicing and healthy eating. I like to call her our "undercover innovator."
Health Educator
For Kelly, jumping into this juice bar adventure was a no-brainer. She was already fueling her love for nutritional education with her business as a Hippocrates Health Educator, and the idea of a juice bar really fired up her entrepreneurial spirit. When we opened our doors—with Kelly in the role of Health Educator—she was so excited to share her passion for health food and healthy recipe development. Whether she's chatting with customers or training her team, Kelly is an educator at heart (like our mom!) and she makes it easy for people from all walks of life to embrace a healthier lifestyle.
Integrity Leader
Kelly cares deeply about the integrity behind our products. Our menu's focus is on high-quality, organic, non-GMO foods that are free of gluten and soy. Each of our smoothie and power bowl recipes is carefully formulated by Kelly to include protein, superfoods, and the perfect blend of vitamins & minerals from a variety of fruits and vegetables. People can taste the care and precision that goes into each of Kelly's creations, and I think that's what makes our menu so special.
So, come by one of our Juicekeys locations and say hello to Kelly. She's always ready to chat about health, nutrition, and her favorite menu items (currently, Cold-Pressed Orange Juice, Wild Oregeno Shots, and anything coffee!). If she's not in the shop, she's probably hiking, planning new recipes, or spending time with her three-year-old daughter, Reily.
Here's to your health!

---