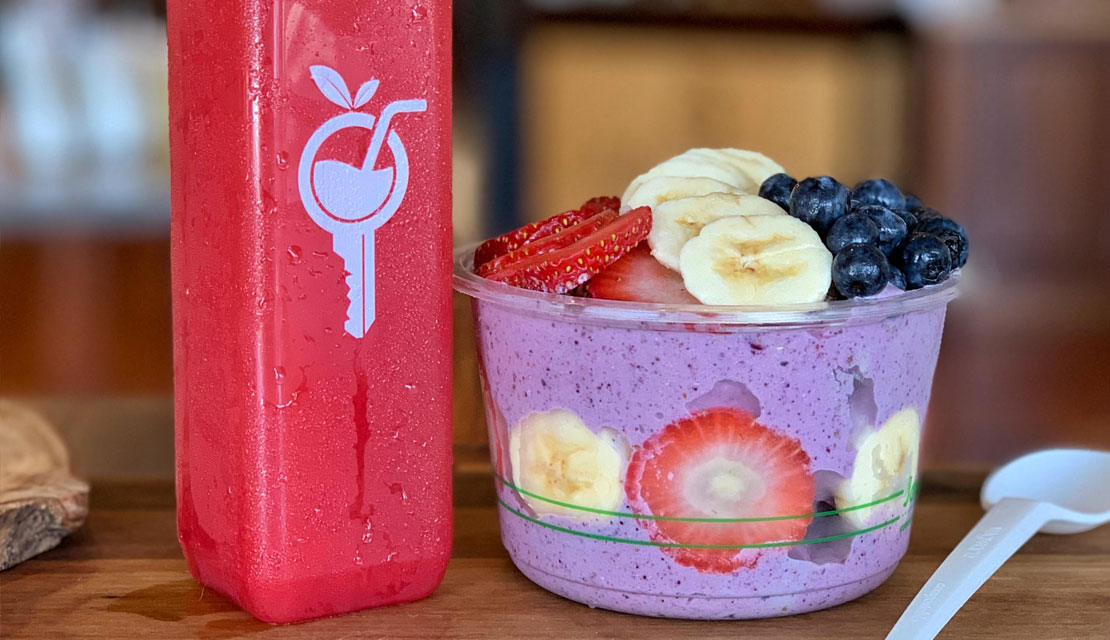 Celebrate the Fourth of July with a Freedom Power Bowl
July is hot in North Carolina, and that means lots of you will be popping into your local smoothie shop to cool down with a refreshing power bowl or smoothie. July is also the month when we celebrate Independence Day. So, in honor of this national holiday and our cool-treat-seeking customers, we have two very special items on our July menu: the Freedom Power Bowl and our cold pressed Watermelon Juice!
The Freedom Power Bowl
Not all Juicekeys fans know that in addition to being a family-owned business, we are also veteran-owned, as Chris proudly served in the U.S. Marine Corps. July's Freedom Bowl reflects both our pride in Chris's service to our country and our dedication to providing healthy, delicious meals for each and every one of our customers.
Here's what you can look forward to in the Juicekeys All-American Freedom Bowl (available on July 3rd only, as we are closed on the Fourth of July):
A blend of almond milk, apples, blueberries, zucchini, banana, almond butter, cashew butter, vanilla protein, coconut water, dates, and Stevia.
Layers of granola, blueberries, and bananas in a festive red, white, and blue pattern.
A truly Instagram-worthy holiday treat (tag us @juicekeys in your photos!).
Cold-Pressed Watermelon Juice:
Our July Key Kreation is Cold Press Watermelon Juice, a super-hydrating juice for these extra-hot summer months. Watermelon is a great source of Vitamins A & C (hello, happy skin & hair!) and heart-healthy potassium. The naturally-occurring L-citrulline in watermelon has also been known to improve circulation and ease muscle soreness.
Here are a few ways to enjoy July's Watermelon Key Kreation:
Sip your watermelon juice over ice (simple & delicious!).
Pour your watermelon juice into popsicle molds for a steady supply of frozen treats.
Use your watermelon juice as a mixer for cocktails or mocktails.
Summer-Lovin' Smoothies
From enjoying Fourth of July fireworks to chilling by the pool, summer is a time for relaxing with friends and family while also trying to stay cool. Trips to the smoothie shop are another great way to spend a hot summer afternoon (though, as smoothie & juice fanatics, we may be a little bit biased!).
So, if you love smoothies as much as we do and you've already enjoyed our Fourth of July Freedom Bowl and our Cold Press Watermelon Juice, here are a few other summer-inspired smoothies to fuel your warm-weather fun: the Pina-Colada Smoothie, the Dreamsicle, and the Tropical Bliss. They really are as good as they sound, we promise!
We hope you're enjoying every bit of these magical summer months, and we wish you a very happy Fourth of July!
Here's to your health!

---