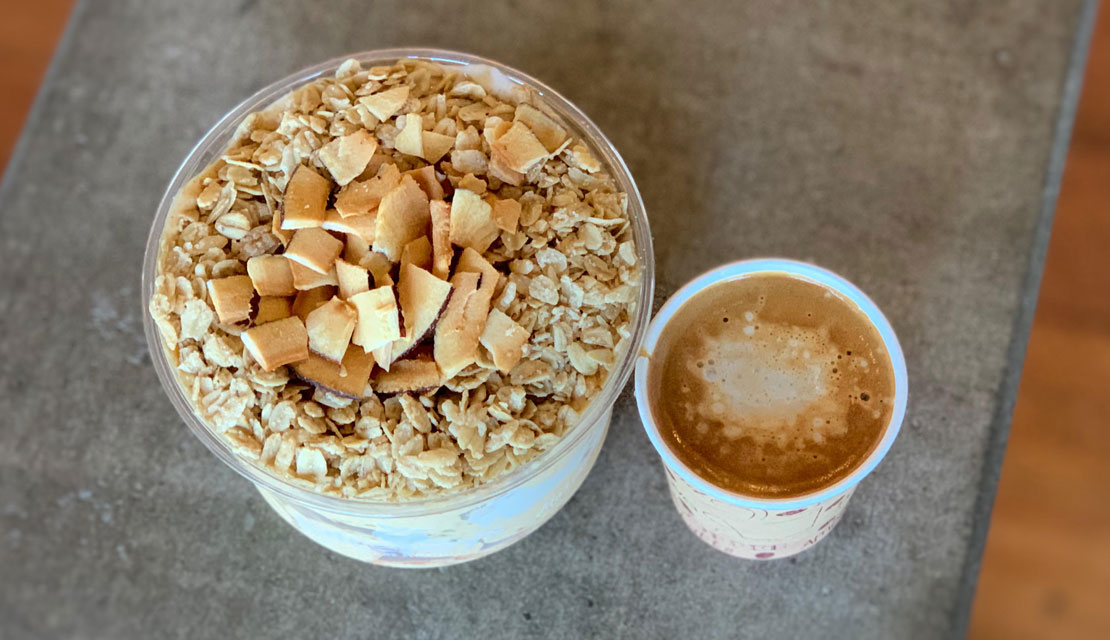 Coffee + Pumpkin Pie = Fall Magic 🍁
Morning and evening temperatures are starting to drop, and soon the trees will start putting on color. Along with changes in the weather, fall brings changes in our diet. After pulling on a cozy sweatshirt, most of us prefer a warm infusion of coffee over a cold drink. And because fall marks the beginning of the holiday season, our taste buds might start craving sweet treats, too. Sure, you can run to your nearest Raleigh coffee shop and grab a pumpkin spice latte. But you can get healthier, tastier versions of your favorite seasonal treats right here at Juicekeys, from elevated espresso shots to healthy power bowls. Oh, and have we mentioned our love affair with maple syrup? Keep reading to get the details on all of our favorite fall treats.
Elevated Espresso Shot
Juicekeys is best known for its healthy power bowls and smoothies, but we also serve delicious hot drinks, including coffee. We rank with the best of Raleigh coffee shops when it comes to quality and flavor. Each cup starts with freshly ground, locally roasted, organic beans and filtered water.
We think our coffee-loving customers will fall in love with our new autumn-inspired creation: Elevated Espresso. For months, the Juicekeys team has been enjoying daily Espresso Shots topped with a generous dollop of our house-made maple cream on top. We finally decided to share the love by putting this special treat on our menu. Now you can kick off your morning with a tasty, sustainable buzz and a little infusion of joy!
Pumpkin Pie Power Bowl
Our Pumpkin Pie Smoothie started as a seasonal item, but was so popular it became a fixture on our year round menu. When we decided to turn the Pumpkin Pie Smoothie into a healthy power bowl for our autumn special, it became a huge hit! So naturally, we're offering it again this year. Here's what you need to know:
🍁The Pumpkin Pie Power Bowl has all the same energy-packed ingredients as the Pumpkin Pie Smoothie: coconut water, pumpkin, banana, cashew butter, vanilla protein, pumpkin spice, and dates.
🍁We turn the Pumpkin Pie Smoothie into a healthy power bowl by layering it with granola, coconut chips, and our house made maple cream.
🍁This 2022 autumn special is available September 24th until the demand ends. So, come on in and let us know how long you'd like to see it on our menu or if you'd like us to bring back some other seasonal special. We love hearing from our customers!.
Everyone says the Pumpkin Pie Power Bowl tastes like a pumpkin ice cream sundae, and we can't disagree. This is your protein-packed go-to treat for fall!
Our House-Made Maple Cream
You may have noticed that both of our new menu items use our house-made maple cream, a blend of coconut cream and pure maple syrup. Some people think that maple syrup shouldn't be included in a healthy diet, but we're happy to dispel that myth! It's true that old-school Mrs. Butterworth brands of syrup aren't great for you (as they're mostly corn syrup!). 100% pure maple syrup, on the other hand, is packed with B vitamins, magnesium, zinc, and potassium. Our maple cream is a great way to try this natural sweetener!
Autumn is a special time of year. We hope you maximize fall's coziness with warm sweaters, long walks in the brisk air, and lots of healthy, fall-inspired treats. Start with our Elevated Espresso and Pumpkin Pie Power Bowl! Pop into the shop to order your favorite menu item in-person or order straight from the Juicekeys app (grab it here for Apple and here for Android)!
Here's to your health!

---