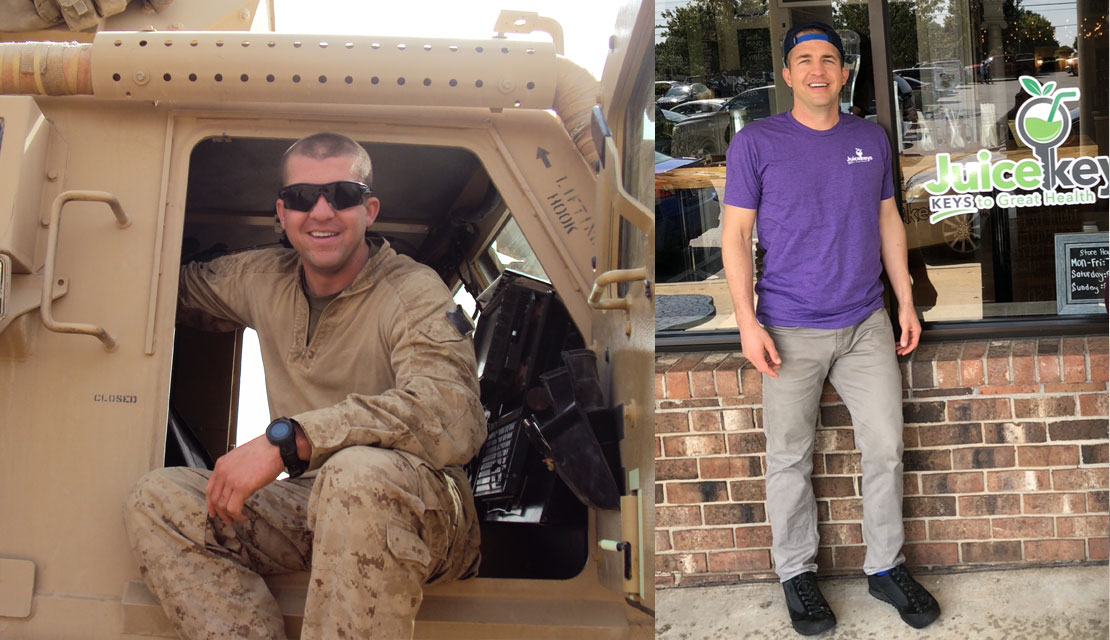 Meet Chris Young, the Go-Getter Behind the Juicekeys Brand
Juicekeys Co-Owner Kelly Young here with this week's blog. Our blogs are usually a team effort, taken on by myself and the other Juicekeys Co-Owner, Chris Young (also my brother), but today I'm going solo. Why? Because this week, we're switching our blog's focus from smoothies & power bowls to the powerhouse of a person who helped make Juicekeys happen: my brother Chris.
From Brother to Business Partner
Anyone who ever wished for a big brother was probably wishing for a big brother just like Chris. With two-and-a-half years between us, Chris was close enough to my age that we could be pretty close, but he was old enough that I also looked up to him. It was hard not to look up to someone who was always so supportive and kind! As kids, he was the calmer of the two of us, and he always helped me see the positive in a situation. He also wasn't too cool to let his little sister get her way! He let me sit in the front seat on the way to school, and even in high school and college, he let me tag along with his friends. Now that's a good big brother!
As siblings, Chris and I always managed to get along, and the same is true of our business partnership. Though we approach work differently, we appreciate each other's strengths and benefit from them. While I'm inclined to take my time and think things through, Chris is a quick decision maker who's not afraid to take risks. Without that go-getter attitude, Juicekeyws may never have come to be.
From Powerhouse to Power Bowls
After high school, Chris played football for North Carolina State University. Then, he joined the Marines. I believe that his success as an athlete and as a Marine can be attributed to his positive attitude. He always pushes himself to do better and encourages others to be their very best selves. As it turns out, these qualities also make him a great business owner.
Just as Chris was leaving active duty with the Marines, I was getting into holistic health. So, when Chris proposed the idea of starting a juice bar that served smoothies, power bowls, and other healthy fare, I jumped on board. After all, any project with Chris at the helm would be a successful one! Plus, I've always loved going on adventures with my brother. Juicekeys has certainly been hard work, but the endeavor has proved successful. As our business continues to grow, Chris and I are still best friends who love working together. As for the rest of our team members, Chris believes in the best version of each of them. As a result, our Juicekeys team really feels more like a family.
From Twentynine Palms, CA to Raleigh, NC
Though Chris is proud to be a Raleigh, NC native, his happy place is Twentynine Palms, California where he was stationed with the Marines. Chris is an avid hiker, and Twentynine Palms is home to Joshua Tree National Park, a favorite hiking destination. He also loves the dry heat in California and it's the big, starry night skies.
Here in Raleigh, you might find Chris hiking a local trail, spending time with his family, or dreaming up the details of our next Juicekeys location. He likes to start his day with an invigorating dose of Breathe Well from our Key to Care Marketplace, and if you catch him in the shop, he might be enjoying his current Juicekeys favorites: The Blueberry Power Bowl and our Avocado Toast. Don't be afraid to say hello—he always makes time to chat with our customers!
Here's to your health!

---