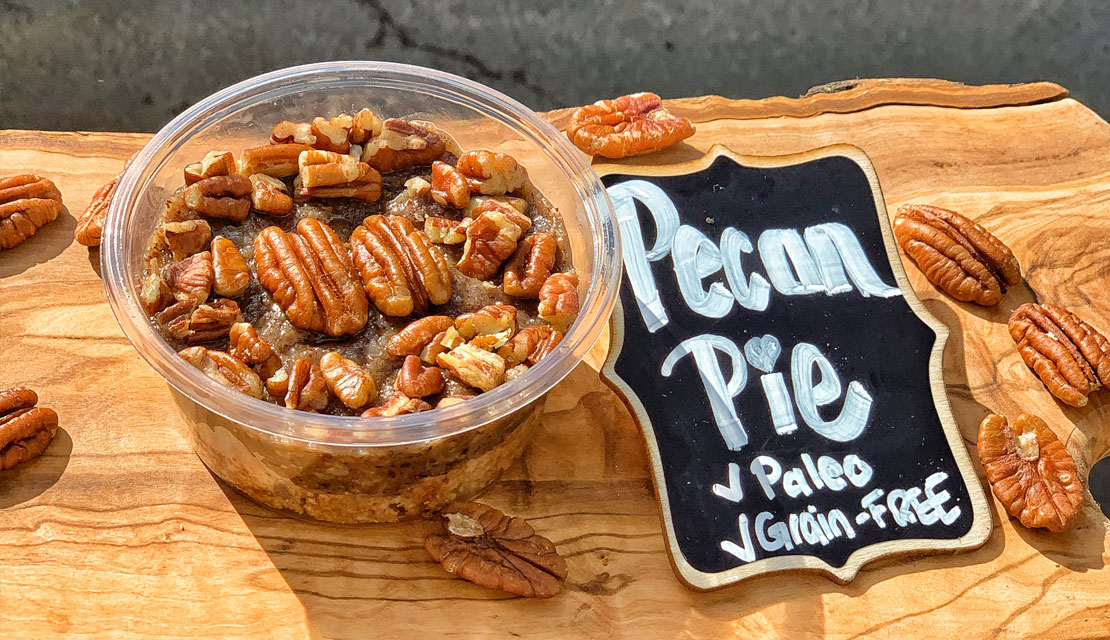 Power Bowls (& More!) to Be Thankful For
Welcome to November! Halloween costumes are tucked away until next year, the leaves are crisp and colorful, and your sweaters & winter coats are making their way from storage and into your closets.
This month may bring cold days and longer nights, but it also brings holidays, family, and giving thanks. At Juicekeys, we have a whole lot to be thankful for and we're expressing our gratitude with two very special November treats: Paleo Pecan Pie and a Gingerbread Power Bowl. Before we tell you about those special menu items, though, we'd like to share our list of gratitudes!
What We're Thankful For at Juicekeys
There are so many things, it's hard to know where to start! But since we can't list them all, we'll share the ones at the very top of our list:
Our incredible, hardworking Juicekeys team members. Whether they're putting together power bowls or educating customers, they're what makes the Juicekeys wheels keep turning!
The Triangle small business community. We love being part of a thriving small business scene in this vibrant part of North Carolina!
Our amazing & supportive customers. So many great people come through our doors every single day seeking community and the keys to better health.
Access to healthy, organic foods that fuel our bodies and minds. The ingredients in our power bowls, smoothies, and juices are truly the keys to health, and we're grateful for the farmers & producers who make it possible for us to share th4ee foods with you!
Thanksgiving Specials at Juicekeys
So, speaking of gratitude, we wanted to take advantage of the Thanksgiving season to create a couple of really special menu items for our awesome customers. Here's what we came up with:
Paleo Pecan Pie
Last month, our Mini Pumpkin Pies were a big hit, and this month we're building on our mini pie success with the Paleo Pecan Pie! This mini pie is a healthier version of the Thanksgiving classic, but we promise it's every bit as tasty with ingredients like pecan, coconut, cashew, almond, cinnamon, vanilla bean, maple syrup, dates, chocolate chips, and sea salt.
Your Thanksgiving guests will be asking for seconds, which is why we recommend buying more than one of these personal-sized pies to enjoy on Thanksgiving day. Just like our Mini Pumpkin Pies, they freeze beautifully and will store in the freezer for up to six months!
Gingerbread Power Bowl
Our Thanksgiving-themed Gingerbread Power Bowl is another reason to be grateful this month. Why? Because, honestly, it is so, so good! We blend almond milk, ginger, apple, date, vanilla protein, almond and cashew butter, coconut water, cinnamon, and stevia & then top it with granola, coconut chips, and maple cream. It's as decadent as a dessert, but counts as an entire, healthy meal. Treat yourself to a Gingerbread Power Bowl this month, or bring in a friend or your entire family for a gingerbread lunch!
These November specials will be on our menu November 10th through November 30th, so be sure to come in before the end of the month to give them a try.
Here's to your health!

---