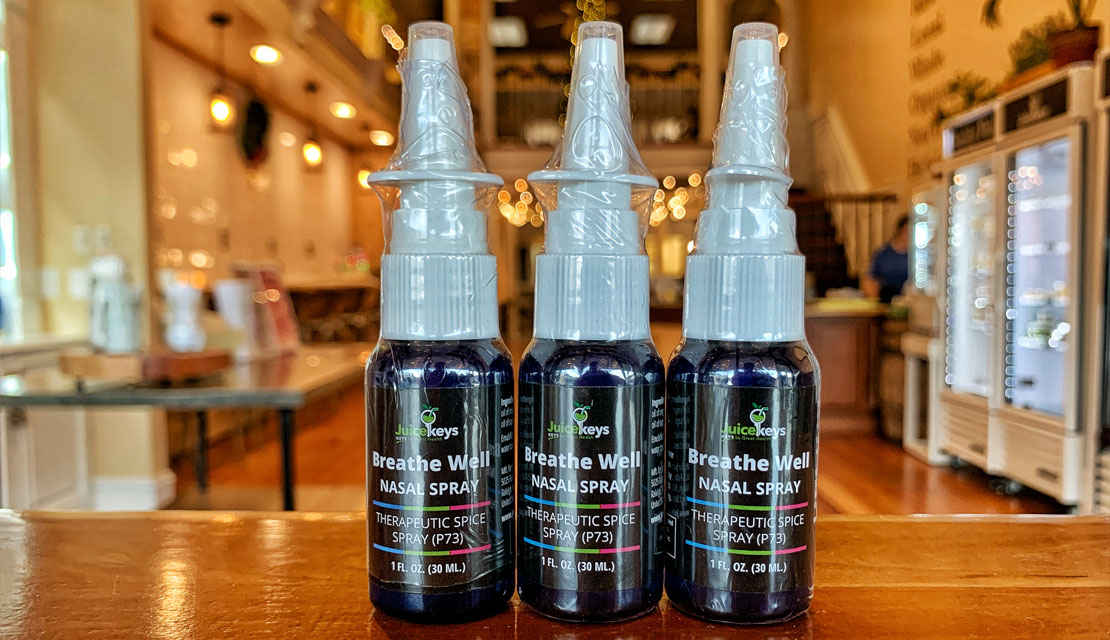 This Is Our Go-To Immune System Booster
This time of year, we get lots of requests and questions from our customers about immunity boosters. At Juicekeys, our approach to a healthy immune system is two-pronged: a healthy diet & mindset matched with quality supplemental immune support.
Providing the keys to better health is the core mission of our business. That's why we make it easy for our customers to make healthy choices with the nutrient-rich ingredients in our smoothies & power bowls. And while many of the vitamins, minerals, and antioxidants our bodies need are present in fruits and vegetables, it's a good idea to supplement with targeted immune system boosters. That's why we carry a line of high-quality wellness products. This time of year, we're using all of the supplements in our wellness line, but one of our favorites for immune support is Breathe Well. Keep reading to find out why we love using this invigorating nasal spray.
What is Breathe Well?
Breathe Well, one of our favorite supplements in the Juicekeys wellness line, is a highly invigorating inhalant designed to wash the inner nasal membranes and sinuses with a blend of powerful spice extracts—including oregano, clove bud, sage, and bay leaf—in a natural sea salt spring water base. It is a valuable wellness tool for relieving allergies, clearing congestion, boosting the immune system, and promoting deep, clear breaths.
What are the benefits of Breathe Well?
We like to tell our customers, "If you have a nose, use Breathe Well!" It really is a one-size-fits-all supplement, perfect for anyone who could use a daily health boost. Here are a few of Breathe Well's most potent benefits:
Immune Support: Breathe Well may deliver a significant boost in immunity and reduction in free radical activity by cleaning and neutralizing compounds in the upper respiratory system such as allergens, pollutants, toxins, mold, VOCs, and harmful microorganisms.
Congestion Relief: The powerful Breathe Well formula may provide relief from mucus, phlegm, and fluid build-up. It may also help to ease breathing difficulties, sneezing, coughing, sore throats, respiratory discomfort, and infections.
Allergy Relief: This immune system booster also has significant anti-allergy, anti-congestion, and antihistamine properties, neutralizing allergens trapped in the sinuses and allowing for clearer, deeper breathing.
How do I use Breathe Well?
To use Breathe Well, insert the nozzle into the nostril and gently squirt. Breathe deeply, allowing Breathe Well to penetrate the sinuses. Repeat on the second side. Suggested use is 1-2 sprays in each nostril daily or as often as needed or desired. Temporary burning, stinging, sneezing, or increased nasal discharge may occur immediately after use. Kelly says she actually enjoys the burn!
Where can I find Breathe Well?
Breathe Well is available online and in each of our Triangle locations. Here's how to grab a bottle of this immunity booster for yourself:
Pop into any of our Triangle locations for a smoothie or power bowl and grab a bottle of Breathe Well while you're there. Just look for our supplements display. If you can't find what you're looking for, ask one of our team members.
Order a bottle or a bundle of Breathe Well online in our Key to Care Marketplace! We'll ship it to your door for free!
New Year, Healthier You
Improving your vitality and overall health is a great goal as we move into 2023. Breathe Well can help you to get there! It provides congestion & allergy relief, boosts the immune system, and invigorates you with just one application. Just another powerful Juicekeys tool to accent a healthy lifestyle and get you functioning at your peak potential. Live well, breathe well!
As always, we're here to support you in your quest for healthy living, and we can't wait to see you in the shop in 2023.
Here's to your health!

DISCLAIMER: Results may vary. Information and Statements made are for educational purposes and are not intended to replace advice from your doctor. Juicekeys does not dispense medical advice,or diagnose illness. The views and nutritional advice expressed by Juicekeys are not intended to be a substitute for conventional medical service. As with any nutritional program or supplements,pregnant or considering pregnancy you should consult your health care professional prior to performing any nutritional regime.,prescribe,you should consult your physician before beginning a dietary regime containing these products. If you are nursing
---