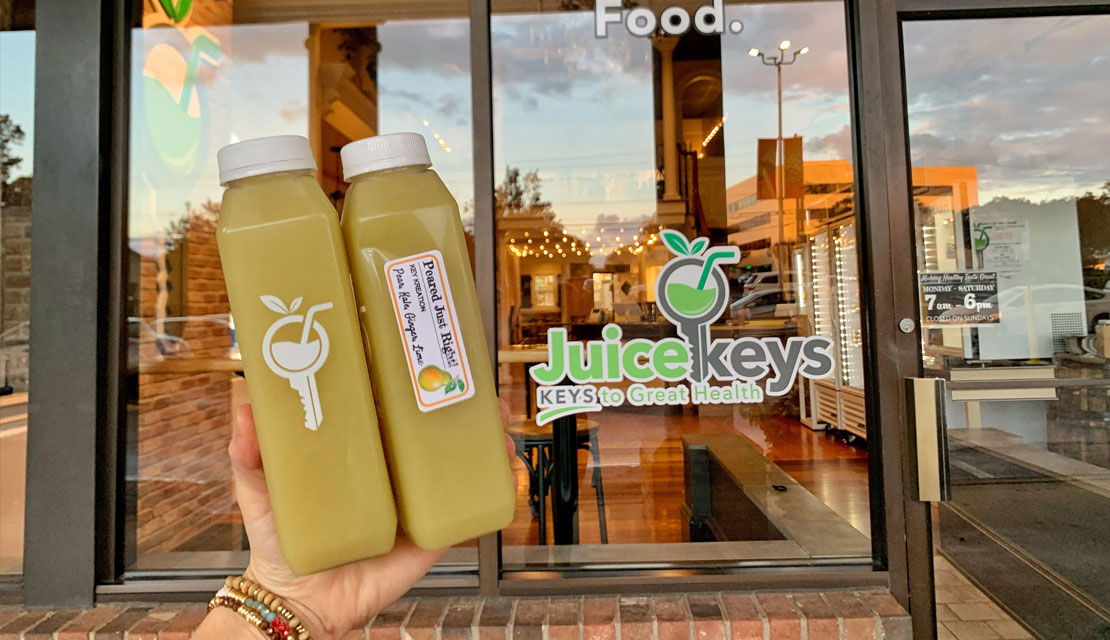 This Month, Add Pear to Your Juice Order
Why pear? Because it's the featured ingredient in November's Key Kreation!
What's a Key Kreation? It's our monthly exploration of new flavor combinations in our healthy organic juices!
In this week's blog, we share a little bit about our Key Kreation process + the inspiration for this month's Key Kreation: Peared Just Right.
What is a Key Kreation?
A Key Kreations is a new, featured recipe we create once or twice per month for curious & adventurous lovers of healthy, organic juice. While many of our regular Juicekeys customers have favorites like the popular Apple Bottom Greens or the vibrant Radiant Roots, everyone likes to switch up their routine every once in a while.
The fun thing about Key Kreations is that we often create these new recipes based on customer input. In fact, our Apple Bottom Greens (a combination of cucumber, apple, ginger, lemon, and kale) was first suggested by our longtime customer Tiphani. That juice is now a staple on our menu!
The goal for Key Kreations, like all of our smoothies and cold-pressed juices, is to help our customers find the keys to unlock vitality and health in their lives.
What is November's Key Kreation?
November's featured Key Kreation, Peared Just Right, is a blend of cold-pressed pear, kale, ginger, and lime. Let's break that down for you:
Pear Juice:
Pears are rich in calcium and magnesium, both of which can increase mineral density (and thus bone density) in the body. The flavonoid antioxidants in pears may also help fight inflammation and reduce the risk of heart disease. Also, pears are sweet and taste delicious!
Kale Juice:
Kale juice is a powerhouse of healthy vitamins and minerals, including Vitamins A, K, and C. Vitamin C is thought to be incredibly supportive to the immune system, Vitamin K may help regulate blood pressure, and Vitamin A can be excellent for your hair, skin, and teeth.
Ginger Juice:
Ginger has a whole host of benefits! This powerful little root has anti-inflammatory properties, can help to stimulate the lymphatic system, and is a great aid for digestion. It is also a warming food that will help boost your metabolism. Ginger is also sweet and spicy in flavor which makes it an awesome addition to any of our cold-pressed juices (we use it in several of our recipes!). This month, enjoy that touch of ginger in Peared Just Right, or dive right into the full ginger experience and try one of our Ginger Lemon Superfood Shots!
Lime Juice:
High in whole-food vitamins and antioxidants, lime is also excellent for stimulating the digestive process (starting with that irresistible, mouthwatering scent). Lime can also help ease constipation and tame the appetite.
The idea behind Key Kreations is to discover what our customers love (and what they don't love!). So, come on in to the shop and try the Peared Just Right - we really want to know what you think!
Here's to your health!

---