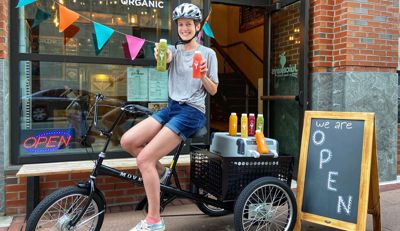 Love Organic Smoothies? We're Hiring!
Dear Local Smoothie Lovers,
First of all, thank you for reading the Juicekeys blog! And thank you for every time you've popped into one of our shops for a power bowl or healthy organic juice. If you love making healthy taste great, a job at Juicekeys might be the right fit for you (or someone you know!) .
If we had you at "organic smoothie," go ahead and apply now. If you want to learn more, keep reading!
Here are a few things to know about working with Juicekeys:
Demand for healthy, organic juices is up, and we're making every effort to meet that demand. As such, we're hiring for all types of positions, from entry level to leadership positions & from part-time to full-time hours. So, whether you're a student looking for a part-time gig, a fitness junkie looking for full-time inspiration, or a career-oriented person seeking a profession you're passionate about - we have what you're looking for.
At Juicekeys, a family-owned business, we truly believe in creating a dynamic, inclusive environment, and we love growing along with our team members. Just ask Theresa Crispell, our Durham Store Operator since 2019. Theresa started out at the front of the house taking orders from customers, and eventually made her way to Store Operator, a position she loves and takes pride in. If that kind of growth-oriented position sounds like your cup of tea (or, er … power bowl), we can't wait to hear from you! In case you need a little more convincing, though, we'd love to share some perks of working at Juicekeys…
Discounted Organic Smoothies, and More!
We know how hard our team members work, and in turn, we work hard to let our team members know that they are valued and appreciated. Here are a few ways we make that happen:
We don't want anyone on our team to feel stuck or frustrated, so we're always open to opportunities for growth, for every employee!
We offer in-house career & skill development. When we see potential in someone, we put in the work to help them level up.
We offer a work environment that is fun, friendly, and authentic: we're real people making real food.
We want our employees to take full advantage of the Juicekeys menu, so we offer 25% off all of our organic smoothies, juices, and power bowls.
We're looking for go-getters with grit who can work independently, but who also value the importance of positive team dynamics and excellent customer service.
Ready to help us make healthy taste great? Apply now!
We can't wait to meet you!

---