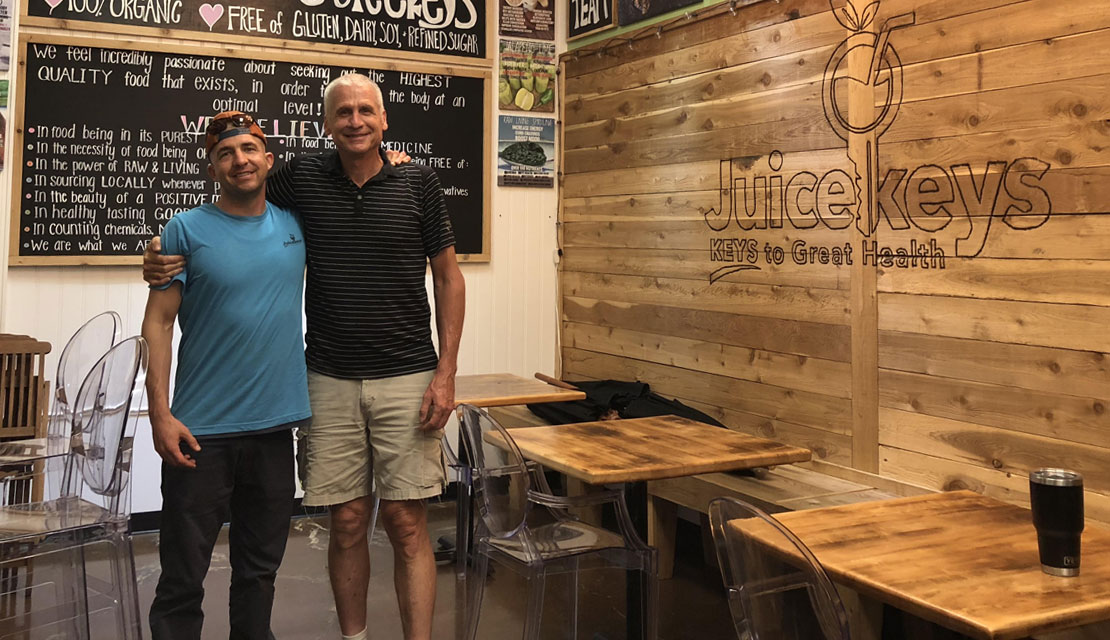 Power Bowls for Pops on Father's Day
Even when we're busy serving up smoothies or dishing out power bowls, the folks at Juicekeys juice bar never forget what it means to be a family-owned business. From the day we opened our doors, our entire family has been behind us, and our mom and dad were first in line. If our mom Gail Young is the heart of Juicekeys, our dad Steve Young is its backbone. With Father's Day right around the corner, we don't want to miss the chance to give a hug shout-out to our dad to thank him for everything he's done to help Juicekeys thrive. We also wanted to share with our readers a few of the valuable lessons we've learned from our dad over the years.
The Juicekeys Juice Bar Ethos, as Inspired by Steve Young:
Hard Work > Whining
Ever walk into one of our Juicekeys locations and think, "Wow, what a cool space!"? That's the work of our dad Steve Young, a homebuilder with Heritage Custom Homes in Raleigh who also builds all the new Juickeys stores. Our dad enjoys his work, but he also takes it seriously. Chris and I are grateful to have been raised with a strict no-whining policy. Instead, if we feel frustrated, we put that energy into building an even better juice bar experience for our customers. The success of Juicekeys has proven our dad right: hard work pays off!
Be Authentic
Our dad always has words of wisdom to share, and his advice is always given with a dose of love & compassion. Family friends and customers alike see him as a father figure. Because he is so well-grounded in his own beliefs, he doesn't worry too much about being liked—which is what we think makes him so likeable!
Keep Your (Smoothie) Glass Half Full
Our father has always encouraged us to think positively regardless of the situation. As one of Juicekeys' biggest supporters, he always sees the glass as half full. Instead of noticing what we might not be doing right, he's always pointing out what we're doing well. That kind of encouragement goes a long way for small business owners!
Show Up for the People You Love
Throughout our childhoods, our dad has been a rock. Whether it was a gymnastics meet or a football game, our dad took us back and forth to our practices and showed up for all of our events. Despite challenging situations, he never put his negative energy onto anyone else. He got stronger for the people around him instead. At Juicekeys, he's been on our team since day one, and he shows up for our extended Juicekeys family (our customers!) as well.
Dad Has Earned a Power Bowl (or Three!)
For all those lessons, we think our dad has earned at least one of his favorite Juicekeys treats (usually something coffee-inspired!). Here's a list of his favorites, in case you want to order from the Super Dad Menu:
The Mo'Mocha Smoothie: The very best kind of buzz for dad: bananas, chewy dates, locally roasted coffee, mocha protein, and more.
The Gimme 'Mo Power Bowl: Our dad has had one of these every day since they have been created, and he's still not tired of them! Once you try the mix of coffee, bananas, granola, and almond butter, you'll understand why.
Mmm Factors: These grain-free protein cookies kind of speak for themselves. You just have to try one!
Dad is also big on enzymes for digestion, so he takes our Digest Well with his food to better absorb nutrients.
So, next time you pop into a Juicekeys shop, keep your eye out for Steve Young. He's always ready to chat & offer advice while sipping his favorite smoothie!
Happy Father's Day to all the great dads out there!
Here's to your health!

---